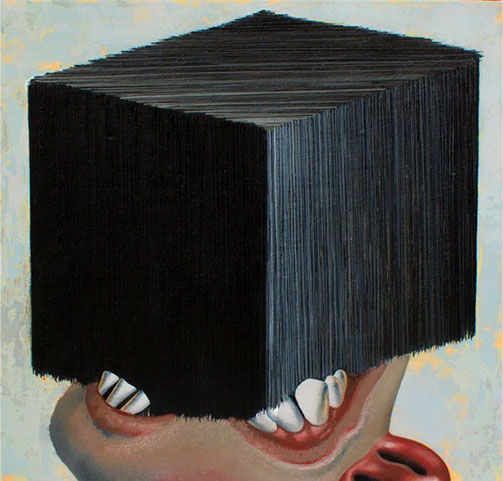 Ivanco Talevski Taking It (2012)
oil on linen, 13.5" x 13.5"
photo courtesy Lesley Heller Workspace
Young Frankensteins
@ Lesley Heller Workspace
An intuitive computer program just beat a Korean Go grandmaster. Customer service robots are being developed to replace living workers. One such robot even made the news recently for cheerfully agreeing to "destroy humans". Considering how more and more people will soon have something in common with John Henry, it feels appropriate to encounter a painting like Ivanco Talevski's Taking It, where a Borg-like black cube is forcing apart two disjointed rows of teeth. In context of the parade of news stories I've been reading, Young Frankensteins at Lesley Heller Workspace makes me consider what it might mean to make art in an age of mechanical intuition.
This large, brightly colored group show is full of playful references to sex, death, flesh, and play—things that definitively separate man from machine. Young Frankensteins' visual conception of humanity emphasizes the grotesque. Figures are often treated more like an assembly of parts, which happens to be how Frankenstein's monster was created. It's also
how I would imagine a computer program trying to visually process human beings. Hannah Barrett's characters are likewise reminiscent of bizarre paper dolls. They could be visual attempts to understand the absurdity of culture by abstractly piecing together its constituent recognizable parts. There are possible clothing configurations—often disjointed—on bodies with differing posture and shifting facial expressions. Everything is off kilter and wrapped in a pastel palette. The Feckless Leprechaun, with his large green head and smiling face emerging from flattened clothing–looks like an undead Victorian-era sales associate. Likewise, Annie Hemond Hotte's Picasso-indebted portraits depict overlapping facial fragments with the occasional sex reference.
Shara Hughes' Loosey Goosey depicts something like a hairy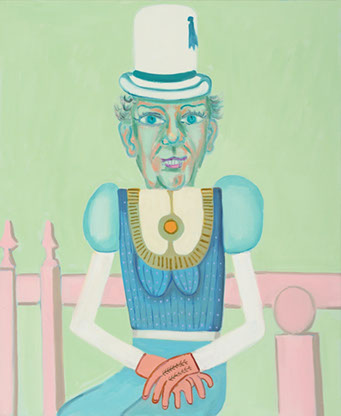 Hannah Barrett The Feckless Leprechaun (2013)
oil on canvas, 28" x 34"
photo courtesy Hannah Barrett
one-eyed worm made from two human arms. In it, a hand from one end of the elongated humanoid snakes around to grasp a utensil from a plate of salad and french fries. The other hand slouches towards a hot dog, anchoring the strong composition of the painting. The concept of human is reduced to a fleshy coil of color with the means to procure food.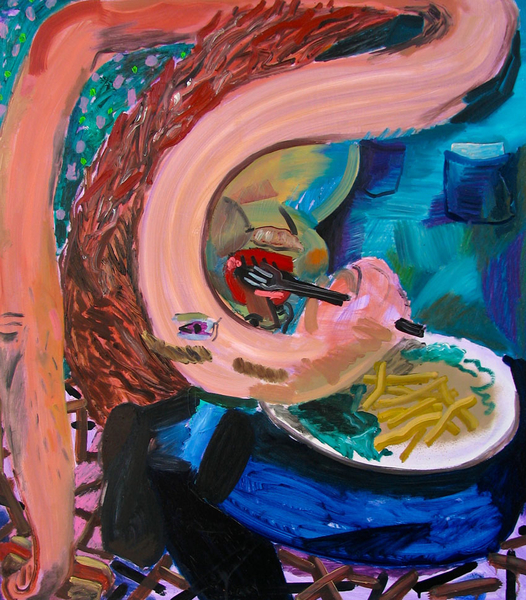 Shara Hughes, Loosey Goosey (2014)
Oil, acrylic, enamel, and spray paint on canvas 32 x 28 inches
photo courtesy of Shara Hughes
Dig me out by Sarah Faux is an abstract field of living flesh and soil. The title resonates with Mary Shelly's Frankenstein and sounds like an order that could be given to an emergency response robot after a natural disaster. It's also loaded with innuendo. She suggests dirt, flesh, and sex with spare abstract means in an all-over composition. The wonky, casually painted shapes and dashes of translucent brown enhance the abject quality of being buried alive –or being "dug out" in the soil.
Jaqueline Cedar's figures in the exhibition appear buried alive in a different sense. They pensively make their way through a space that's not quite real. They could be stuck in a dream, trapped in a maze, or lost in a virtual reality. The life sized scale of her work somehow makes her figures more relatable. This vulnerable, interpersonal aspect of the work resonates with the pieces by David Humphrey and Joakim Ojanen, whose characters express deeply personal feelings and experiences.
Some paintings in the show include roughly geometric signs which are blended into multi-suggestive mutants. Austin Eddy's Flying Fingers City Face is the instantly recognizable and self explanatory abstract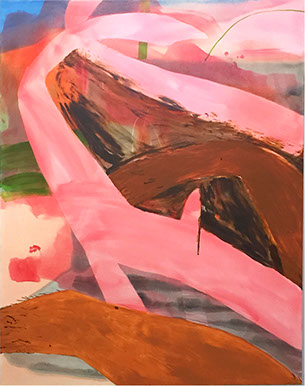 Sara Faux, Dig me out (2015)
oil on canvas 56" x 72"
photo courtesy Lesley Heller Workspace
signature around which he constructs his paintings. With his signature sign holding all the suggestive content necessary, he uses it as a limiting factor, working against it as a means to explore shape and color relationships.
The first painting you might see approaching the gallery from the street is Peter Schenck's Clear and Present Danger. A fearful comedian/rock singer appears on stage in the shape of a head stone. This geometric compression of a figure stands in front of a microphone. His pink-fleshed face resembles a piece of pizza. Peter Schenck's two other pieces in the show, In the Studio and Sittin' Pretty, feature an abundance of abstracted eyeballs and mouths scrambled into quasi-cubist spaces. The psychologically-charged work presents the figure with angst and wacky absurdity.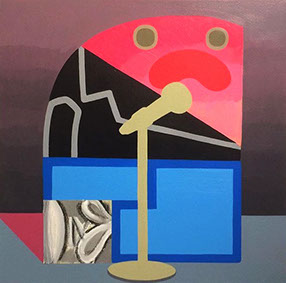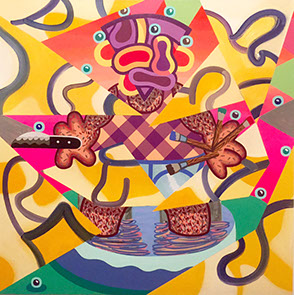 Peter Schenck, Clear and Present Danger (2015)
acrylic and charcoal on canvas
photo courtesy of Peter Schenck
Peter Schenck, In the Studio (2016)
oil on canvas, 48" x 48"
photo courtesy of Peter Schenck
There are many compelling examples of flailing wackiness on display. In Up Up and to the Grocery Store and Double Dix—both by Nicasio Fernandez—Lynn Foulkes meets Rocko's Modern Life. His paintings feature cartooned anthropomorphic animal figures, genitalia, and a variety of paint application techniques. You'll find base human instincts and dreamlike fears in his paintings: a disembodied peacock head castrating a urinating fox super hero; a snake crawling from a toilet; and a bathroom scene where cigarettes burn one of two penises attached to the same figure.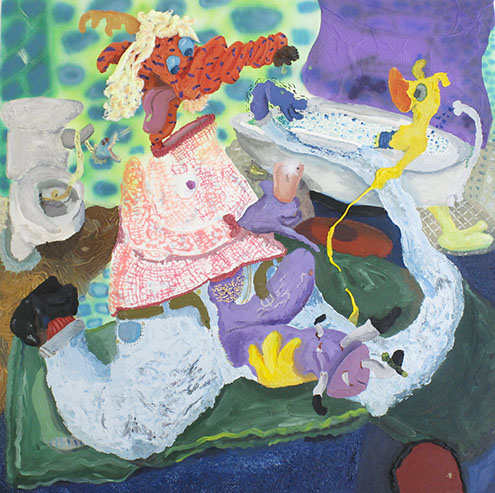 Nicasio Fernandez, Double Dix (2015)
Acrylic, oil, shower curtain on canvas, 60" x 60"
photo courtesy Lesley Heller Workspace
The cartoon violence continues with Jeremy Roby. He invokes a Surrealist device when a pink-gloved finger pushes an eye slightly out of socket in Sit There Just Deal With It. The protagonist's flesh is cartooned, undead, and apparently not a source of pain. These exquisite paintings feature old men with pipes and limbs from younger people. Their beards need band aids but their rubbery skin is nearly indestructible. They would blissfully take a foot to the face for some human attention.
Alexi Worth's lone painting in the exhibition stands apart from the grotesque. In fact, it's beautiful. But it does show what looks like teenage sex in a closet through night vision goggles. Fresh, excited, untouched bodies grope one another passionately in a Green Moment. The human machine is deliberately at work, serving instincts to procreate.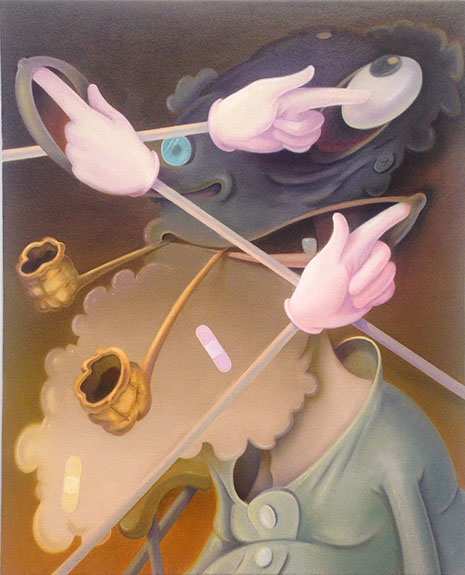 Jeremy Roby, Sit There Just Deal With It (2015)
oil on canvas, 24" x 30"
photo courtesy Lesley Heller Workspace
Because many computer engineers are assuming the role of Dr. Frankenstein in a rush to develop artificial intelligence, there may be a time in the not so distant future where we start to ask serious questions about what separates us from the machines we've created. What will we mean by "alive" if computers can think? Art and flesh would inevitably be part of the discussion. In Peter Schenck's curatorial statement for the show, he says "Young Frankensteins offers a fresh platform for reflecting on the human condition." The freshest platform for reflecting on the human condition might just be an operating system.
Scott Robinson is an artist in Brooklyn, NY and the founder of Painting Is Dead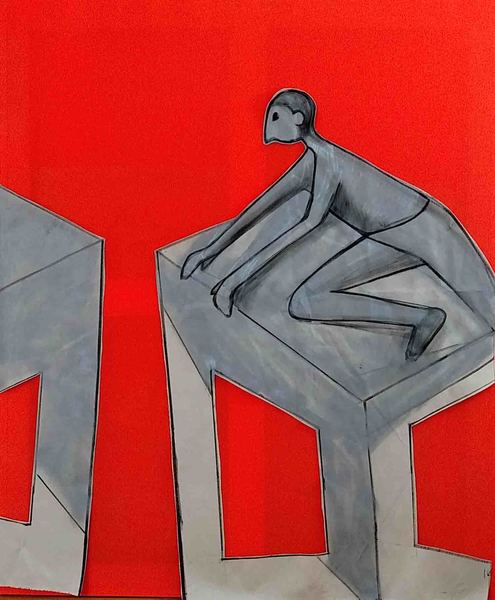 Jaqueline Cedar, Walk Through Again (2015)
canvas collage on fabric 60" x 72"
photo courtesy Lesley Heller Workspace
Young Frankensteins
February 24 - April 3, 2016
Lesley Heller Workspace
54 Orchard Street
New York, NY
Hours
Wed - Sat 11am-6pm
Sun 12-6pm
Alexi Worth, Green Moment (2015)
acrylic on mesh 22" x 44"
photo courtesy of Alexi Worth