Installation view of The Forever Now: Contemporary Painting in an Atemporal World at The Museum of Modern Art, New York (December 14, 2014-April 5, 2015). Photo by John Wronn © 2014 The Museum of Modern Art
The Forever Now @ MoMA
If you follow the escalators to the top floor of the MoMA, you'll find both a historic recapitulation of Henri Matisse and his collage work, The Cut Outs, as well as an intriguing, albeit overwhelming, contemporary painting survey. The Forever Now: Contemporary Painting in an Atemporal World is the brainchild of curator Laura Hoptman, according to whom the paintings of the selected 17 artists, "reflect a singular approach that characterizes our cultural moment at the beginning of this new millennium: they refuse to allow us to define, or even meter our time by them." That's a hefty weight to shoulder, though Hoptman has varied, and crammed full, her exhibition enough so that it may be possible.
The basic premise of the show is that these painters, working now, represent a main, but general, direction of contemporary praxis in which the history of technique and concept are but parallel mines to delve into at will, pulling out golden incentive and inspiration, to the point of replication. Or, as the press release states, "Their work represents traditional painting, in the sense that each artist engages with painting's traditions, testing and ultimately reshaping historical strategies like appropriation and bricolage and reframing more metaphysical, high-stakes questions surrounding notions of originality, subjectivity, and spiritual transcendence." A sketchy premise, but it does allow for a wide range of painters, varying in demographic, method, and medium. The only obvious string holding them all together is their market bankability, as duly noted in other reviews, and even that leaves one or two outliers. In summation, Hoptman's curatorial postulate allows for a contemporary painting survey, at the Museum of Modern Art, which hasn't seen one in 30 years.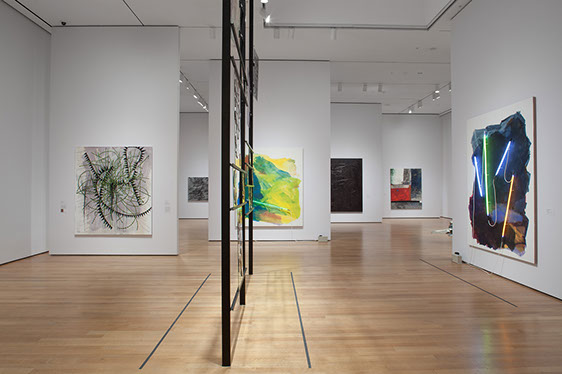 Installation view of The Forever Now: Contemporary Painting in an Atemporal World at The Museum of Modern Art, New York (December 14, 2014-April 5, 2015). Photo by John Wronn © 2014 The Museum of Modern Art
The question of temporality, or atemporality, in the exhibition is seemingly not as questioned by the works themselves as much is the subject/object duality of painting. The question of painting either as object itself, or (and?) to signify objects, subjectively, is apparent at every turn. An example of the former is the circus-tent minimalism of Matt Connors, the latter Nicole Eisenman's overlarge ovular faces, with minuscule faces
pastiched inside. Present here is a spectrum between representation and pure abstraction, though the representation comes in waves of cartoonish gesture and laden symbolism. Or perhaps, latent, as in the selected work of Richard Aldrich, toward the back of the labyrinthine curation. Present are five of the artist's distinct works, which display his lighthearted grappling of authenticity in gesture and material. One of the most powerful works here is his small, unassuming oil and wax on panel, Blue Sea Old Wash (2006). At first look, I thought of Hemingway, and his clean, well-lit space in text. Here you have it in paint. At only 14 ½ by 11 inches, the scarred, monochrome work functions as if to be the absolute reversal of almost everything else in the show. To talk time, Blue Sea Old Wash, located physically at the end, feels like the singularity at the beginning of the Big Bang: lots of heat, small amount of space.
Aldrich's works are coupled with the Tumblresque airbrush canvases of Michael Williams,
Richard Aldrich. Angie Adams/Franz Kline. 2010-2011. Oil, wax and vine charcoal on cut linen. 84 x 58" (213.4 x 147.3 cm). Collection David A. and Barbara L. Farley. Courtesy the artist and Bortolami Gallery, New York.
Photo: Farzad Owrang
which seem to peer from the back wall like kids through a wire fence. Pairing overabundance of disparate, outlined imagery with little to zero figure/ground connectivity, Williams' work here seeks to the question the necessity of compositional logic. Directly opposite, in the previous gallery, would be a would-be satiric answer, in the work of Josh Smith. His Brady Bunch installation of purposefully naïve paintings functions as a slap in the face of any painting practice and inquiry that would take itself seriously. The feeling is that of boys fighting on the playground, the ground being the notion of the exhibition itself.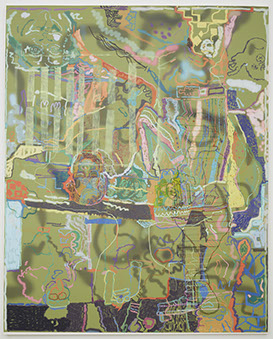 Michael Williams. Wall Dog. 2013. Inkjet and airbrush on canvas. 8′ 1 1/4″ x 6′ 6 1/8″ (247 × 198.4 cm).
Private collection, New York. Courtesy CANADA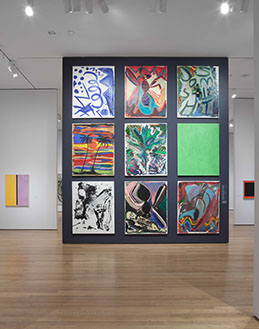 Installation view of The Forever Now: Contemporary Painting in an Atemporal World at The Museum of Modern Art, New York (December 14, 2014-April 5, 2015).
Photo by John Wronn © 2014 The Museum of Modern Art
Antidote to this numbing immaturity is the sophisticated, darkly humorous, and outright gigantic screen-printed works of Laura Owens. Her Untitled, the PR image of the entire exhibition, is about 11 ½ by 10 feet, and consists what might be abstracted white flowers on a text-based background, applied so that it seems each layer floats on top of the other, à la Photoshop. To be fair, the three pieces of Owen's in the show are titled Untitled, and range in ostensive subject matter, but focus on the tokens of early childhood education, such as cursive practice writing pads and 1960s Americana illustration. The paint is goopy, the print is clean, and readability oscillates before your eyes as if your glasses had fogged. What sets her work apart in The Forever Now is, perhaps, her seeming disentanglement with the tradition of painting itself, and more her preoccupation with deconstructing the narrative impulse which belies image-making. Yet it's not so dry as that. Owens embeds her work with a childlike joy and irrepressible smirk, inviting you to laugh with her, if you spend the time to get the joke.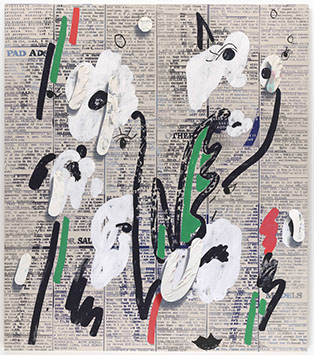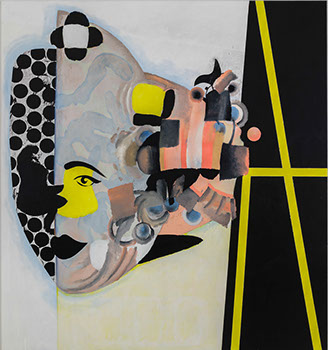 Laura Owens. Untitled. 2013. Flashe paint, synthetic polymer paint, and oil stick on canvas. 11' 5 3/8" x 9' 11 7/8" (349.3 x 304.8 cm). The Museum of Modern Art, New York. Enid A. Haupt Fund. Photo: Jonathan Muzikar
Charline von Heyl. Carlotta. 2013. Oil, acrylic and charcoal on canvas.
82 x 76" (208.3 x 193 cm).
Ovitz Family Collection, Los Angeles.
Courtesy of the artist and Petzel, New York. Photo: Jason Mandella
To keep going backward through this attempted, atemporal space, the work expands and contracts into booths and singular breaths. This includes the doubling of Charline von Heyl and Amy Sillman, in their excerpted mastery, at opposite ends of the middle section. In the middle of the middle are two greats as well, though perhaps a smidge less established, Rashid Johnson and Mary Weatherford. Establishment here being extremely relative, as almost all of the artists present have art-world prestige. These four artists anchor the exhibition, literally and figuratively, creating a kind of compass with which to navigate the rest. While extremely different, their risk-taking and originality are the center rings from which the other works echo out and ultimately feel measured against, save Aldrich. Walk back further and you'll find Mark Grotjahn's, again circus-themed sunbursts. Loud, pretty, and very similar to another, these three works pulsate on the wall, looking to extend beyond their supports.
Follow this directional and you'll find the variable that is Michaela Eichwald. A mid-career painter based in Cologne, her two wall-scaled horizontal works and one small self-portrait present, perhaps, the best understanding of painting qua painting, a concept Hoptman puts forth in her catalogue essay. I am at a slight loss for words when it comes to these works. I can only say that they are alive, and unlike anything else in the exhibition. This in mind, to leave is to re-find Kerstin Brätsch's large, guardian-like works on paper, encased in glass, stacked, and lean-to'd around the entrance. Neon feathered brush strokes circle each other and run up and down the compositional space in each piece, as if to electrify the metaphoric gate. Perhaps this choice of placement has an ulterior purpose, to guard the exhibition's purist zeitgeist notions against the encroaching MoMA gift shop, situated at the top of escalators. Whatever the reason, Brätsch's work welcomes you into a diorama of contemporary, meaning American, German, and abstract, painting landscape.
The Forever Now: Contemporary Painting in an Atemporal World
December 14, 2014 - April 5th, 2015
Museum of Modern Art
11 West 53rd Street, 6th Fl
New York, NY
Hours
Saturday - Thursday: 10:30am-5:30pm
Friday: 10:30am-8:00pm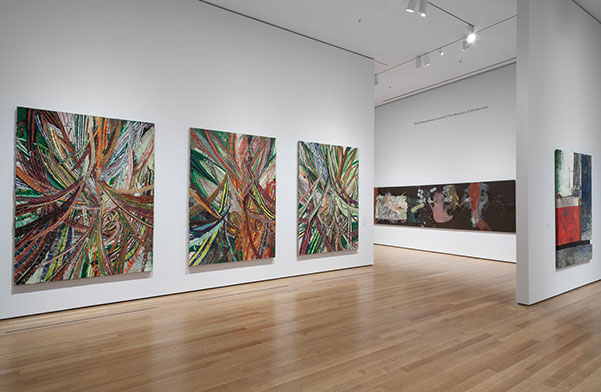 Installation view of The Forever Now: Contemporary Painting in an Atemporal World at The Museum of Modern Art, New York (December 14, 2014-April 5, 2015). Photo by John Wronn © 2014 The Museum of Modern Art