Portraits in Convex Mirrors
@ Bannerette
"Portraits in Convex Mirrors", curated by artist Em Rooney, is the first show at the brand new Bannerette gallery, run by artists Emily Davidson and Stuart Lorimer. The title suggests introspection with a higher degree of awareness, perhaps in light of an important event. The expanded view of a convex mirror gives one the ability to more easily look behind or around a corner —with a slightly distorted view. "Portraits in Convex Mirrors" sets a reflective tone. We are presented with a nostalgic portrait of the past with a portentous eye to the future.
The show coheres around a narrative structure full of pathos and vulnerability. Rooney curated the show based on her reaction to a dance by Nick Duran titled Every Time You Are Near. Duran performed the piece at Pieter Space in April and again during his residency at the Hammer Museum in August. The dance was a loose narrative in three movements. It began with sixteen minutes of silent intimacy between Nick Duran and his dance partner. The following two movements, featuring energetic dance broken with silent pauses and outbursts of agony, were performed to sides A and B of Dionne Warwick's vinyl record "Make It Easy on Yourself". Likewise, "Portraits in Convex" Mirrors can be organized into three 'movements'.
Nickolas Roudané
Evan 2014
OIl on Linen
18 x 16 inches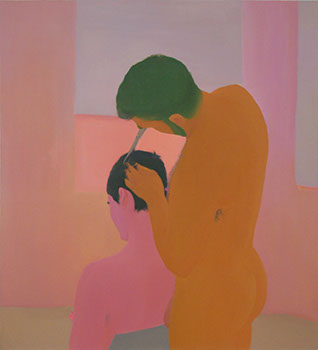 Xinyi Cheng
The Haircut 2014
Oil on Linen
36 x 40 inches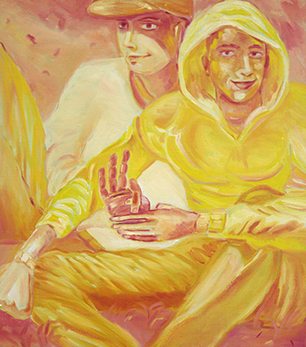 Two paintings, Xinyi Cheng's The Haircut and Nikolas Roudane's Evan, are firmly rooted in the past and set the foundation of the show. They depict scenes of contentment and companionship composed in analogous color schemes of reds, oranges and yellows. Both low contrast paintings are intimate and warm. In Cheng's The Haircut, a nude bearded figure of desaturated orange and green tenderly grooms a seated pink figure. Flat planes of color suggest they're in a softly lit room with light that glows through a window. Both minimally constructed figures, á la Alex Katz, are seen from behind. It's a scene we can easily project ourselves into—like the outer-body viewpoint from a dream. As in memory, only important details are clear. It's the most sincere piece on display. Conversely, Evan is painted with the sensibility of a staged snapshot. Two friends arrange themselves with symbolic gestures to convey a sense of camaraderie. They self-consciously construct a moment of happiness for posterity with gentle smiles and direct gazes. The title tells us this memory doesn't belong to Evan. Whatever his condition, Evan is likely absent. The intentionally de-skilled execution —like a memorial to a loved one made by an untrained artist— heightens the sense that this is a tribute to a friend no longer with us.
A second 'group' of paintings includes pensive, solitary figures. Marissa Bluestone's Red Kitchen, Celeste Dupuy-Spencer's Hope St. Shotter and Leigh Ruple's Broken Down present us with figures who are frustrated, fearful, and above all, alone. Broken Down portrays fear in isolation. A figure grips a steering wheel in an act of futility as they stare wide-eyed into dimly lit surroundings. The person appears to be naked and exposed as blades of grass reach out from the side of the road like cold arms of the undead. Doubtlessly, the painting would take on a different character if a companion were present. Equally alone is an artist in Hope St. Shotter who appears to be struggling with a hideously sardonic portrait. Text messages are clearly an unwelcome distraction. The artist's annoyance is our comic relief.
A final group of paintings isolates the viewer in landscape. They provide vacant space for the viewer to experience uncertainty and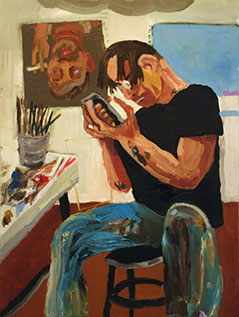 Celeste Dupuy- Spencer
Hope St. Shotter 2012
Oil on Canvas
18 x 26 inches
solitude. Michael Berryhill's anti-arctic gives us little more certainty than of a muddy ochre plane and a scratchy, abraded sky that shifts from purple to buff white. The title anti-arctic may or may not give clues to interpreting this landscape, but there's no need. The implication of climate change is enough to echo menacing unknowns. Alex Bradley Cohen's small quasi-religious landscape is poetic, but more direct—it's difficult to imagine anything more foreboding than a floating black orb.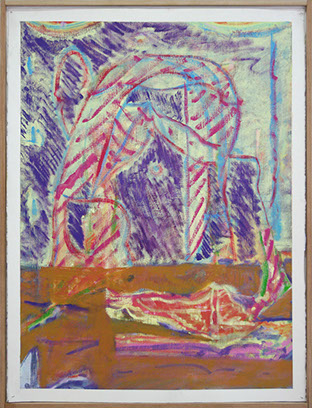 Michael Berryhill
anti-arctic 2014
Oil on Paper
22.5 x 30 inches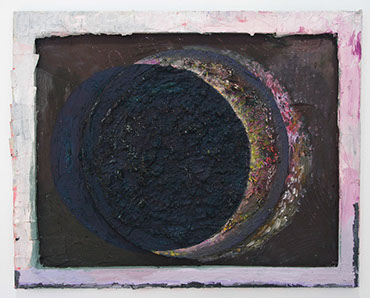 Yevgeniya Baras
Untitled 2014
Oil on Canvas
16 x 20 inches
If the exhibition begins with The Haircut it ends with Yevgenia Baras' Untitled (2014). It's a highly textured portrait of an eclipse with a frame integrated into the painting. We confront this craggy object as a prognosticator of the inevitable. In the context of "Portraits in Convex Mirrors", it reads as an allegory of loss.
This is not a show that coheres naturally, but related color palettes do their part to overcome major stylistic variance from piece to piece and hold the loose narrative structure. Scenes of intimacy and contentment give way to pensive loners and unpopulated spaces. Moments of sincerity are held in check with self-deprecating irony and de-skilled paint application. Mysterious, imaginative scenes alongside intimate, personal moments give strong romantic overtones despite the cynical mood swings. It's an impressive beginning for Bannerette.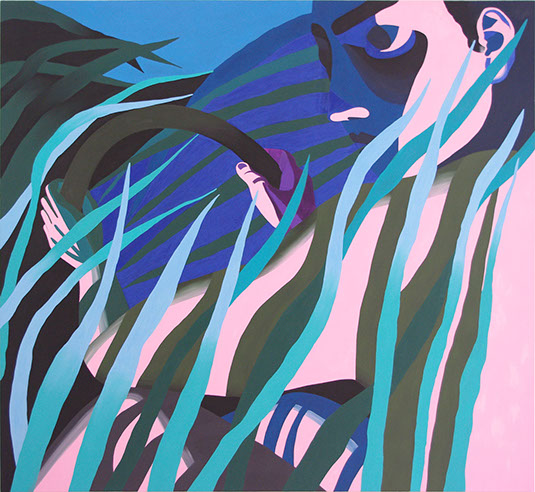 Leigh Ruple
Broken Down 2014
Oil on Canvas
66 x 72 inches
Portraits in Convex Mirrors
September 19 - October 12, 2014
Bannerette
52 Tompkins Ave. (entrance on Park Ave.)
Brooklyn, NY 11206
From the Press Release:
Rendering the human body in a painting has become increasingly complicated and many painters avoid it. The decision to give or to deprive the figure and it's ground life or depth, affect or style reflects the idiosyncratic politics of each painter, and is as poignant an exploration today, as it was for Manet when he painted A Bar at Folies-Bergère in 1882. As long as paintings are apart of an economic and cultural network we will consider what role our corporeal form plays in the matrix. Do we picture ourselves within this network or outside of it? Where do we actually see ourselves? Portraits in Convex Mirrors is inspired, in part, by a dance piece performed at Pieter Space in Los Angeles in April 2014 titled Every Time You Are Near by Nick Duran. Nick's dance, more reminiscent of a Martha Graham piece then of anything postmodern, reflects the drama of being alive in the absence of others—like a private exhibitionism, and because of this stands in stark contrast to more contemporary concepts about urbanity, abstraction, and alienating consumerism as they relate to our bodies, or cyborgs and the spaces, real or virtual, they inhabit. These works animate the unpopular opinion that style is too connected to patriarchy and exclusion to be the only viable means of representation anymore. Offering up the refreshing, if not optimistic, idea that bodies beside themselves are bodies in networks.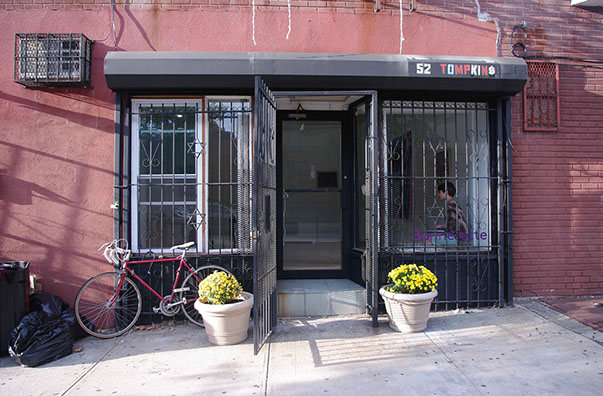 Bannerette at 52 Tomkins Ave.
Photo: Scott Robinson