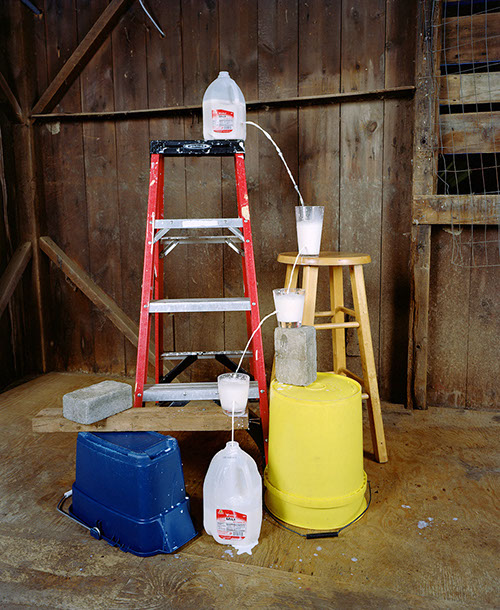 Adam Ekberg, Transferring a gallon of milk from one container to another, 2014
Archival pigment print (edition of 3), 40" x 30"
photograph courtesy of Ortega y Gasset Projects
Pass/Fail @ Ortega y Gasset Projects
I associate the term Pass/Fail with school classes that don't always have to be taken seriously to result in success. They're usually less stressful and may involve some clowning. The artists in Pass/Fail, curated by Will Hutnick, have applied this stance towards representation in different ways. Their light hearted approach through choice of materials–whether stacked, taped, molded, glued, drawn, or positioned– make fun experimental visions rather than observations. I'm reminded of something Jasper Johns said: "I am concerned with a thing's not being what it was, with it becoming something other than what it is, with any moment in which one identifies a thing precisely and with the slipping away of that moment."1 The artists in Pass/Fail find interesting ways to walk the line between passing and failure, often resulting in a touch of humor.
Given the shows wide variety of materials, I appreciate how Hutnick arranged the work in the gallery. It fosters formal and conceptual conversations. Robert Otto Epstein's drawings sit cozily next to Erin O'Keefe's photographs. His meticulous hand-drawn pixelated patterns call into question the material composition of O'Keefe's painterly photographs. Her work is mysterious, even when you know it's a photograph. I almost have a hard time calling the pieces photographs because the flat colors and forms almost behave like opaque paint. Like a John Houck or Sarah Cwynar, it can be tricky to discern how the image has been constructed. O'Keefe's work is similar in that it has a sophisticated way of representing something it's not.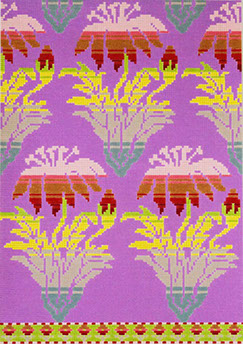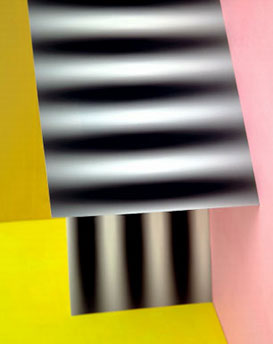 Robert Otto Epstein, Full Length Coat, 2013
Color pencil on hand gridded paper, 20" x 15"
photograph courtesy of Ortega y Gasset Projects
Erin O'Keefe, The Flatness #5, 2013
Archival pigment print, 20" x 16"
photograph courtesy of Ortega y Gasset Projects
Sitting on the floor like the pet of O'Keefe and Epstein's work is Melting Grid (aftermath) by Denise Treizman. Treizman's ceramic, failing grid feels like it's caved in on itself by the conceptual weight of it's subject matter. Duct tape and plastic is wrapped around parts of the grid as if to halt it's slump. It sits like an old dog. The sad joke is late modernism's weakening bite.
In Weave Done It! plastic, tape and fabrics are woven together. In spite of its tight weave, the piece doesn't escape it's lo-fi materiality. It remains well constructed and unrefined– the ends aren't positioned into the fabric in completion and a pile of bubble-wrap ribbons lay on the floor as if the weaver has given up. The title's pun furthers the light-hearted spirit of the piece. A playful aesthetic continues with Treizman's Hip Hop Hooray (gold). Gold tinsel-like paper is haphazardly stuffed into a black Wal-Mart quality frame and yellow dots are spray-painted on the glass. The materials become illustrations of themselves. There is something wistful about the piece–hanging in the corner high on the wall like it's there to commemorate a festivity. It's a momentary burst of energy and like much of the work in Pass/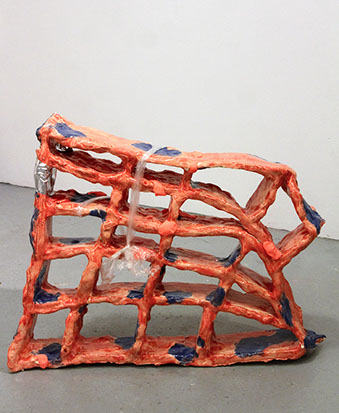 Denise Treizeman, Melting Grid (aftermath), 2015
Ceramic, model magic clay, duct tape and plastic 16" x 22" x 4"
photograph courtesy of Ortega y Gasset Projects
Fail, it simulates fun for the viewer. The show has youthfulness about it, but with the recognition that time passes.
A short lived Rube Goldberg-type set up is arranged in the photograph Transferring a gallon of milk from one container to another. Milk jugs, cups, buckets, a ladder, and a stool are set up in an old rustic barn–a place where you're more likely to encounter a live cow. Packaged milk coming back to the barn is pretty ironic. Obviously, there is no purpose for transferring milk in this way–other than that of a fun provisional fountain experience. It's dead pan–a crude, gravity reliant, no-cow-needed milking process. An absurd scenario is again set up where something is trying to be what it's not in Eclipse. Thanks to good timing, a pineapple literally eclipses the sun. Pineapples don't grow on trees, so this scenario is unlikely to occur in nature.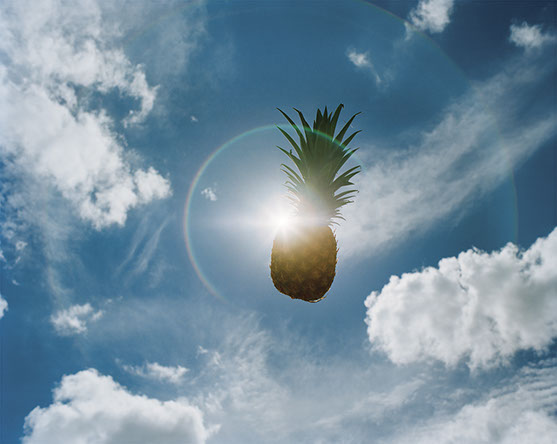 Adam Ekberg, Eclipse, 2012
Archival pigment print (edition of 4), 30" x 40"
photograph courtesy of Ortega y Gasset Projects
Gabrielle Roth's Objects for Becoming a Column presents a pair of Teva sandals filled with fruity pebble sculpted feet placed next a pedestal for pizza boxes. The pizza boxes act as the floor for a lounging female figure and Greco-Roman columns–also sculpted from fruity pebbles. Since the opening of the show, the columns have drooped to comic effect. The tenuous structure pokes fun of its own existence. It's attitude is surrender. This piece makes me think about my impractical vacation daydreams; the kind I have when I want to get away so badly, but can't go because of work or expense. For many artists, it's a wilting dream to be nibbled by New York street rats.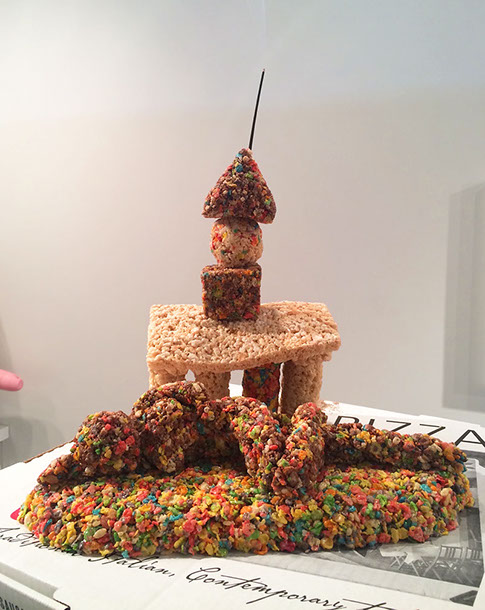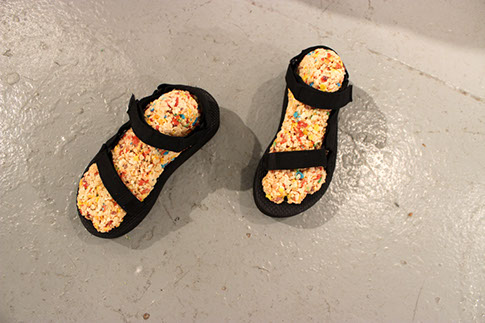 Gabrielle Roth, Objects for Becoming a Column, 2015
Cereal, marshmallow, butter, PVA, incense, found lighter, plastic flowers, pizza boxes, Teva sandal
Dimensions variable
photograph courtesy of Ortega y Gasset Projects
All of Leif Low-Beer's sculptures have an animated quality in their top-heavy, clunky appearance. Leif Low-Beer's Haitian Folklore consists of two stacked, Rauschenberg-esque sculptures. It's almost difficult to tell whether or not the sculptures are made from found objects because of the clean quality of construction. Somehow the material nature appears transformed. Paper cut-out "shadows" are placed on the floor like visual puns. The tone of the shadow is lighter than the floor; they're not trying to mimic shadows, but rather bluntly act as drawings of shadows. This drawing-like approach to his sculpture is demonstrated in his work on paper, Sub (meaning "under") and urbs. The piece shows loose schematics and Albers-like color studies with repetitive line patterns and texture studies.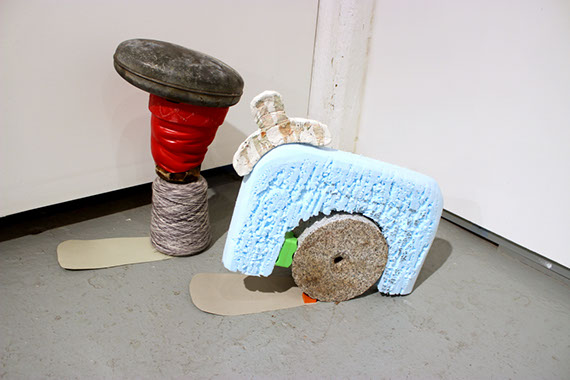 Leif Low-Beer, Haitian Folklore 1, Haitian Folklore 2, 2014
Mixed media, dimensions variable
photograph courtesy of Ortega y Gasset Projects
Megan Stroech's Hoop Dreams dominates the back wall of the gallery and does so with reason, as it echoes the lo-fi character of the entire exhibition. It's the only piece in the show that comes close to total abstraction–that is, unless it's a giant penis. Hoop Dreams has a Dollar Store aesthetic; a decorative mat is attached to the wall by brown packaging tape and printed contact paper covers insulation foam. Low-grade but useful household things are cut up and arranged; made useless by transformation into an art object, but given new purpose that's less-likely to become obsolete.
When the condition is Pass/Fail, stress-less effort can be applied and humor valued. Intricacy and quality of construction are masked by the materials and titles of the artworks, which are intentionally a bit ridiculous. Fun marks the passing of time and quickly invokes nostalgia. A lighthearted moment is always relevant.
1. Brockes, Emma Master of Few Words The Guardian, 26 July 2004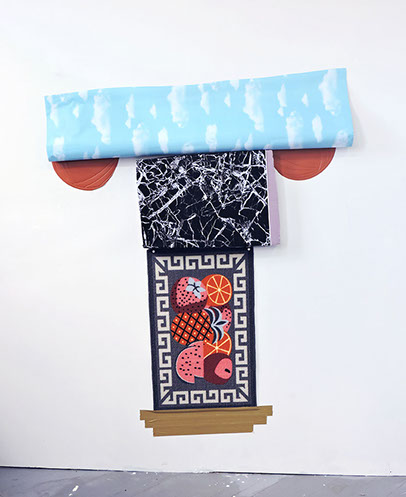 Megan Stroech, Hoop Dreams, 2015
Paper, pink foam, contact paper, vinyl placemat, doormat, duct tape, 52" x 45"
photograph courtesy of Ortega y Gasset Projects
Meredith Hoffheins is an artist in Brooklyn, NY. She was a resident at The Wassaic Project and will be included in Soft and Hard opening on June 16th, curated by Melissa Staiger at Trestle Project Space.
Pass/Fail
April 15, 2016 - May 15, 2016
Panel Discussion May 14th from 4:00pm-6:00pm
Ortega y Gasset Projects
The Old American Can Factory
363 Third Ave
Brooklyn, New York 11215
Hours
Saturdays and Sundays from 1:00pm-6:00pm
And by appointment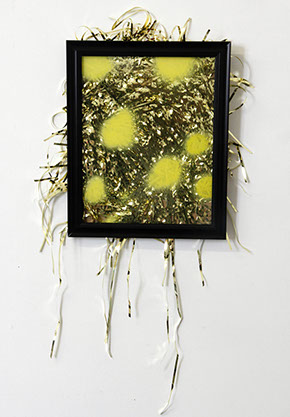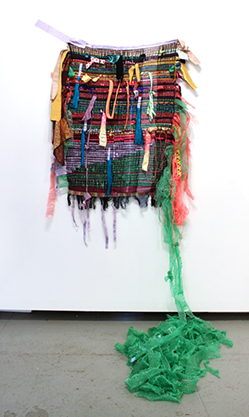 Denise Treizman, Hip Hop Hooray (gold), 2015
Metallic paper, frame and spray paint 19" x 13"
photograph courtesy of Ortega y Gasset Projects
Denise Treizman, Weave Done It!, 2015
Handmade woven textile using discarded materials (fabric, plastic, duct tape, others) 76" x 68" x 42"
photograph courtesy of Ortega y Gasset Projects