Dr. Zira: What will he find out there, doctor?
Dr. Zaius: His Destiny.
-Planet of the Apes (1968)
Walking into Land After Time at E. Tay gallery, you might expect a show with a somewhat apocalyptic tone. That's not exactly what you get. It feels more like visiting an alien civilization's vacation planet during the off season. There's no indication that anything sinister or tragic has happened. The presentation is pristine. Perfectly functioning neon lights, seamless woodwork, and big, very fresh paint strokes tell me that if civilization left, it went suddenly and it didn't bother to turn out the lights.
Esther Ruiz sets the tone –pink– with her glowing hanging sculptures from the back of the gallery. Bright neon outlines cloud or thought bubble shaped deep blue mirrors in Well (edition of 5). Only one is eye level, which creates the feeling of drifting skyward. When paired with Stephen Eakin's ramp and ladder pieces as well as Sarah Mullin's prominently painted skies, there's a pervasive feeling of ascending and descending throughout the exhibition.
Ms. Ruiz's plaster sculpture feels ethereal and foreign. A bright white neon glow soaks itself into the already white plaster, making some edges in the life-sized sculpture nearly invisible as you move around it. The play of light and space gives it the poignant feeling of purity that exists in a Doug Wheeler installation.
In contrast, a few dirty artifacts which have completely lost their original function are presented in suspended animation in Stephen Eakin's sculptures. He gives the show a cherished grit. In the context of this exhibition, his found objects don't quite provide a "You maniacs! You blew it up!" moment, but they do seem to place artifacts from our culture in a distant future that might be trying to understand or teach a distant past. His sculptures generally include one or a few tchotchkes presented in resin and hung on shaker pegs. One of three free standing exceptions in this show, This keyboard is a piece of shit, features an old Mac keyboard preserved in a brightly glowing resin lit from underneath. The sculpture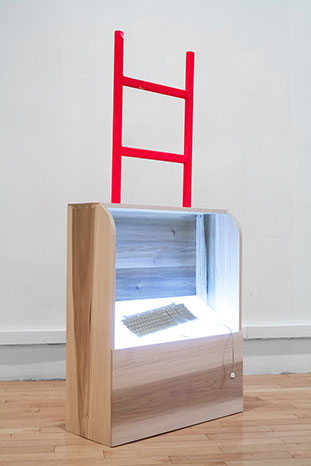 This keyboard is a piece of shit, 2016
photo courtesy E.TAY Gallery
reminds me of a booth one might use in a school library for a computer or a microfilm machine. There's even a nob recessed in the back (secretly decorative and functional) to control the level of glow for the resin-bound keyboard. Where a screen of some kind might be, we get a short pink ladder instead. True to Shaker inspiration, there's a prominent and obviously intentional paint coverage error.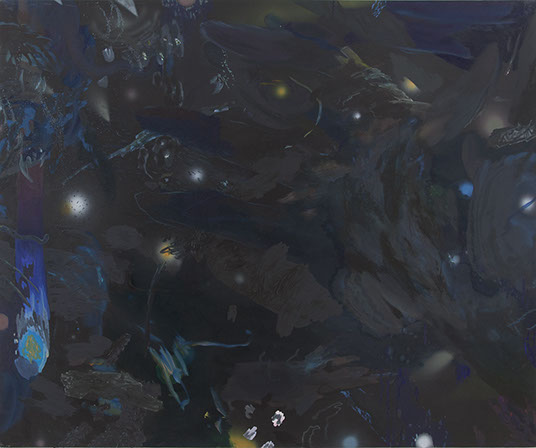 Dark Star, 2015
oil and acrylic on canvas, 96" x 80"
photo courtesy Sarah Mullin
The gentle gradients that fill the gallery echo in Sarah Mullin's paint. They tie the exhibition together nicely, providing a kind of setting for the sculptures on display. Strangely, the paintings don't wilt in this neon environment. Most would. The shapes are big enough to take on the character of changing light. Arguably, Dark Star, the painting which is closest in proximity to the colored light, benefits from it. The rhythms built with matte and gloss strokes of paint is more apparent in the strange pink light that shifts as you walk. The placement is a curatorial master stroke. It gives an iridescent effect that makes you have to change angles to tell when paint is dark purple or a dim pink reflection. This setup reminds me of the dimly lit third floor of Chris Offili's dark metallic paintings at his recent New Museum retrospective. But Land After Time's effect was achieved with more light rather than less. Dark Star features squiggles of paint that change value as they repeat, high key spray painted orbs, and the aforementioned play of matte and gloss paint: the combination of this provides the painting with miles of depth. It's an abstract field made with an outer space view in mind –literally complete with splatters of dark matter.
The two paintings that first greet you on both sides as you enter provide views from the ground. Dr. Goldensun is a day scene with distant pyramids and an enormous sun. Warmth and humidity are palpable in this painting that could be a Mario Paint plein air. Brooklyn, B.C. overlooks a very distant city from a hill in the late evening as meteors streak across the sky. The blurry foreground shapes give the viewer the sense of being there and focusing on the distance. Signs of civilization appear as Roman ruins did for centuries –enigmatic monuments integrated into the landscape, which appear to have been made neither by human nor God.
For me, the show is an abstraction of my generation's childhood utopia. I recognize the absent civilization in the compelling fantasy illusions culture created. It reminds me of
Dr. Goldensun, 2015
oil on canvas, 63" x 87"
photo courtesy Sarah Mullin
plastic play sets, landscapes that could be from outer space or inhabited by colorful dinosaurs, neon colored school supplies, and arrowheads I looked for in fields with family members. The title is even a riff on a movie I watched repeatedly in Kindergarten –The Land Before Time. For many people my age, the visual language of that time period still resonates because the fantasy available in our childhood augmented the imagination just enough to be a blast. If I put myself in that mindset, this show gives a good hard scratch to a nostalgic itch. But apart from that, it's a cohesive, formally well-conceived show. More please.
Scott Robinson is an artist in Brooklyn, NY and the founder of Painting Is Dead
Land After Time
March 3, 2016 - April 2, 2016
E.TAY Gallery
39 White Street, New York, NY
Hours
Wed - Sat: 12 - 6pm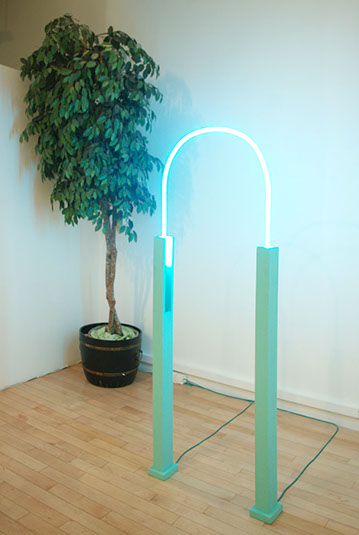 Land After Time installation view
photo: Scott Robinson

Disclaimer: All views and opinions expressed are those of the authors and do not necessarily reflect the views of the editors, owner, advertisers, other writers or anyone else associated with PAINTING IS DEAD.