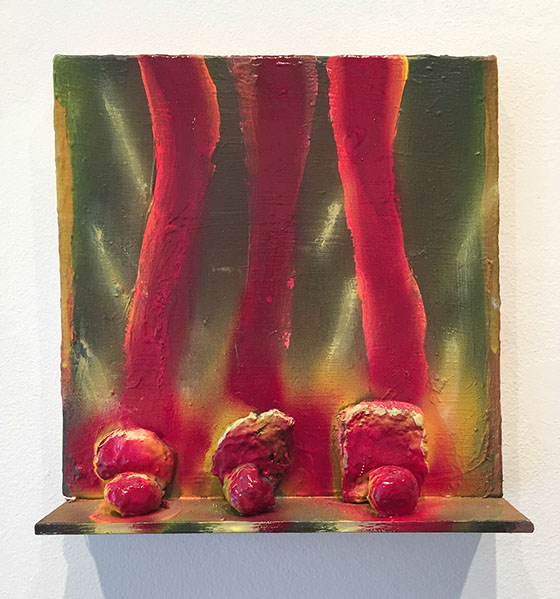 Fire Balls, 2014
Acrylic and sray paint on canvas, wood, clay, and paper mache.
12x12x3 in.

by Heather Elizabeth Garland
December 1st, 2014
I woke up early the Sunday before Thanksgiving to make my virgin voyage to Arts+Leisure, the project space for Chelsea's Frieght+Volume located in East Harlem. Seeing the work of Katherine Bradford is always a pleasure, but this time the journey was half the fun.
On exiting the subway I accidentally headed the wrong direction. I encountered some very sincere quilted flowers with botanic detail on fences, took in the geography of the neighborhood, with the Metro North line blocks away, and saw some bright and beautiful mosaic murals by Manny Vega.
While looking at one of his murals, I heard someone say, "You know, she's the artist." I turned around and was introduced to Manny's assistant, Anni, and Manny himself. We talked a little about his murals, and Arts+Leisure, my destination. "Oh, that gallery that's bringing Brooklyn artists to Harlem." Manny said. We then talked about the neighborhood, the gallery, the relationship between the two, and what that may be.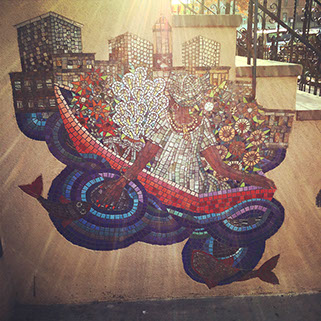 Manny Vega mosaic mural
photo: Heather Garland
"Katherine Bradford: Shelf Paintings" is a jewel box on top of a hill. I was first introduced to Bradford's paintings through her epic solo show "New Work" at Ed Thorp gallery in 2012. Her work often has figural elements: divers, bathers, supermen, and allusion to the nautical, or landscape existing in a dream-like space. This particular show is an accumulation of these things distilled to their purest forms with color and texture as the main attraction.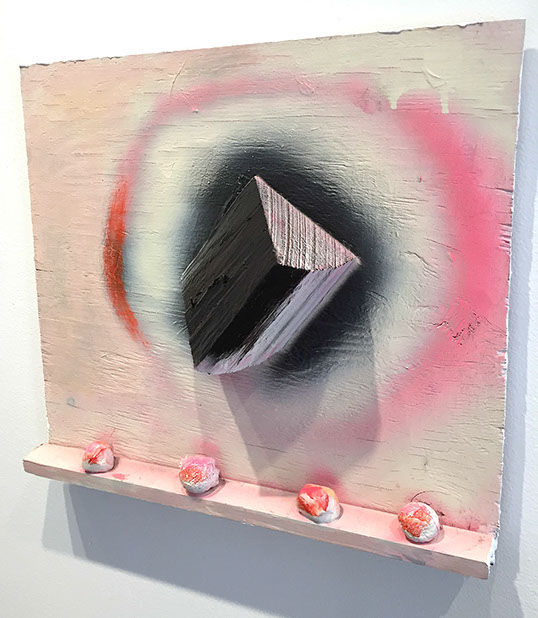 Shell Shelf, 2014
Oil, acrylic and spray paint on wood and clay with attached split log.
16x21x3 in.
There are clues to subject matter for those unfamiliar with Bradford's work. The three most specific works in the show: Superman Cape, Ship with Color Shelf, and Titanic Shelf, have obvious signifiers of subject, whereas the titles and imagery in other pieces such as White Preserver, and Liner Shelf have ghost forms suggesting what subjects may be. One of my favorites in the show Fire Balls looks good enough to eat, at once calling to mind atomic fireball candies, cojones, and something that could literally be on fire.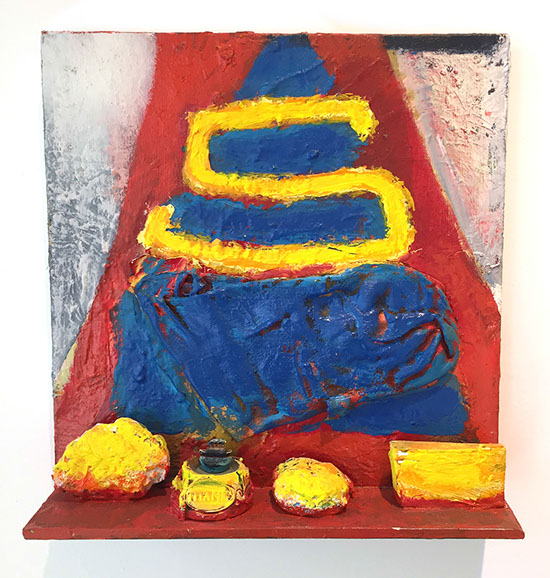 Superman Cape, 2014
*materials not listed*
12x12x3 in.
Each painting from the beginning of the show to the end is thoroughly felt in three dimensions, offering detail from all views with front and center being the ultimate read. This gives the work a performative feel with shelf as stage and objects as actors. The best seats may be front and center, but there are also interesting and complex views from stage left, and the orchestra pit. Even as we are the viewers, however, the paintings with their frontal protrusions seem to be viewing, and reflecting upon themselves.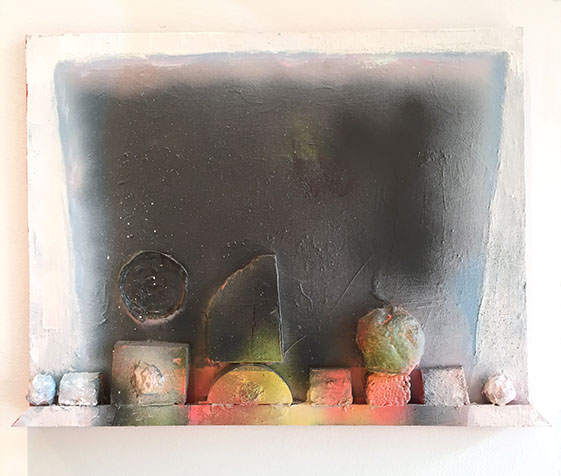 Liner Shelf, 2014
Acrylic, oil and spray paint on wood, styrofoam and paper mache
24x20x3 in.
The scale of these works is very human. They feel loved and cared for, fought for, and won. The most fantastic thing about the shelves, and accretions of objects in each piece, is how integrated they are with the paint. Just as one might choose a punchy red or an upward brush stroke, the collected objects and their placement in these paintings are equally important. Combining all of these elements so seamlessly is not easy. Achieving harmony in a piece like Shell Shelf might seem impossible or ridiculous. How did she make that giant chunk of wood that sticks out three inches from the center appear weightless, or as if it is soaring upward? That's where the magic is.
In a video by Carol Saft accompanying the show, Katherine says, "The best art is an argument. The artist needs to know what the conversation is and at some point you wanna jump in and add a remark." Bradford knows her conversation and is pushing it into new territory.
Heather Elizabeth Garland is an artist who lives and works in Brooklyn, NY.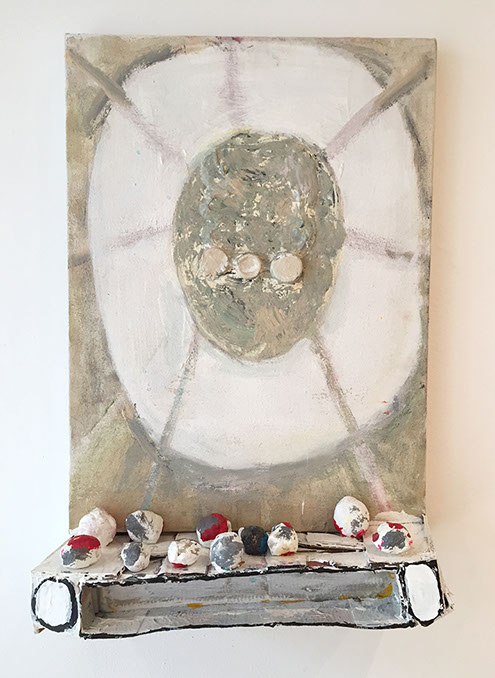 White Preserver, 2014
Acrylic, cardboard, paper mache, clay
30x18x5 in.
Katharine Bradford
Shelf Paintings
November 15 - December 14, 2014
Arts+Leisure
1571 Lexington Avenue
New York, NY 10029
Hours
Wednesday - Sunday 11am-6pm
or by appointment