Criminal's Cinema at Honey Ramka
Criminal's Cinema—an exhibition curated by John O'Connor that is currently on view at Honey Ramka—deftly illustrates art's relationship to visual perception. Its title is a take on the phrase "prisoner's cinema," a phenomenon that occurs during extreme periods of isolation in which individuals see light patterns and ghostly imagery. The five artists' respective visions play themselves out in the front room of the show. Each work is a clear, pointed take on how artists embrace the subjectivity of individual perception. The front room is oddly punctuated by the work in the gallery's rear project space.
There many good things about this show: from its heavy emphasis on drawing and linework, to its thoughtfully developed relationship between real space and drawn space. In Kanishka Raja's work, we see graphic, blueprint-like drawings rendered out of a grid of holes in paper, shifted out of its original location directly adjacent to the finished work. The marks on the wall where the drawing was made sit as a kind of latent image, and looking at them side by side creates an op-art resonance. It also activates the drawing as an object in the real world, something that is relocated.

Kanishka Raja
I + I (Drawing For One Eraser) (2014)
pencil and eraser on paper, pencil dust, eraser shavings, paper
52" x 168"
This sits kitty-corner to the work of Bruce Stiglich, who sets up still lifes of art objects next to their carefully rendered portraits. His detailed mixed media works on paper, read like stereographs when situated next to their real life counterparts. This is a clear illustration of rendering versus real-thing, and artist as a filter of the physical world. It's a nice contrast to the sculpture/collages of Gary Burnley, who uses actual stereographic equipment. Looking into the eyeholes causes two completely separate images to be super-imposed—a neat effect that could venture into being gimmicky if he weren't pushing it with experimental and ambiguous abstraction.
 Dawn Clements completes this portrait of perception with her large-scale watercolor rendering of an ambiguously familiar domestic space. Here, negative space defines what is as much as what isn't. Clements thus creates a psychological space more so than an actual. The work's floating, wrinkled paper calls out to Raja's holed paper directly across the gallery.
The works in the front room all make a series of clear, pointed revelations in regards to the show's statement. The tough leap to make is into the back room with Matthew Northridge.
The "project room" at Honey Ramka is often an entirely separate, usually solo exhibition. However, Northridge's work is billed as part of Criminal's Cinema despite the fact that it feels like it could be its own mini show. I enjoy Northridge's work, particularly the vans climbing up the wall drawing with their tire tracks, but can't grasp how this collection of objects is situated within the rest of the exhibition. The best I can do is extend the presented theories of perception outward to include a more general sense of abstraction. For me, this is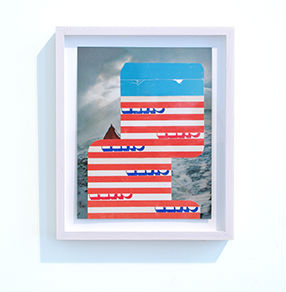 Matthew Northridge
The World We Live In, No. 220 (2014)_
mixed media/collage
10" x 8"
problematic because it opens upthe theoretical floodgates to a deluge of artistic styles and movements, which threatens the conciseness of the show.
Besides the questions that linger about the front and rear spaces, this is a refreshing show that breaks away from some of the popular trends in painting while remaining part of the conversation in a clever way. The curation is smart and tight, and there is a nice blend of philosophical and science museum approaches. A fulfilling range of traditionally rendered drawing and painting techniques counter the dominant focus on thick, colorful, variably textured, and layered paints.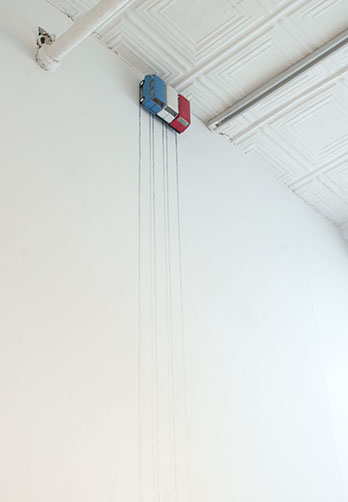 Matthew Northridge
Tricolore (2013)
mixed media/ink
6-1/2" x 5" x 2-1/2"
From the website:
Criminal's Cinema is an exhibition curated by John O'Connor featuring works by Gary Burnley, Dawn Clements, Matthew Northridge, Kanishka Raja, and Bruce Stiglich. The exhibition opens Friday, July 11th from 6-9pm, and runs through Sunday, August 17th.
Honey Ramka is an exhibition space directed by Jesse Patrick Martin and Bryan Rogers. The gallery is located in Bushwick, Brooklyn @ 56 Bogart Street (first floor). We are open from 1-6pm on Fridays, Saturdays, Sundays, and by appointment.