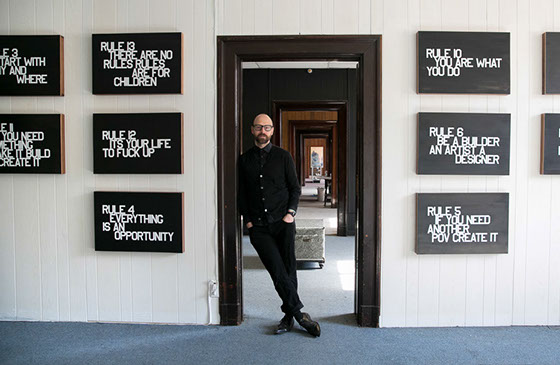 2015 SPRING/BREAK Art Show curatorial presentation
photo courtesy of Tory Williams
Alejandro Jassan with Christopher Stout
A system is a set of connected things or parts forming a complex whole. In order to work properly, every system has its own rules and guidelines. This applies to anything, from an assembly line to the human digestive organs. Similarly, an organized scheme applies to the so called 'art world', a compound system of many actors who make the gears turn and stimulate a market based on supply and demand. But invariably, there is always an actor who breaks the mold by invalidating the rules. His name is Christopher Stout.
Founder of Bushwick Art Crit Group, Stout is an artist himself with the mission of giving back to the art world in Bushwick. This mission brings him and his team so much joy. Through artist lectures, panel discussions, and a successful YouTube channel, BACG has organically taken on new projects that enhance their ability to serve artists.


Christopher Stout shares some thoughts on the Bushwick community spirit, his upcoming solo show, and some interesting insight for younger generations. Is he fathering the future of Bushwick? I believe that could be the case.
Alejandro Jassan: With bigger galleries opening spaces in Bushwick and blue-chip artists becoming more present, why do you think it is necessary to open a new exhibition space? What does Bushwick have that other gallery districts are lacking and what is the added value of having a project space in Bushwick?
Christopher Stout: This is very important question to me. Here are a couple of quick thoughts: BACG is not opening a gallery. BACG is opening a project space, meaning that our goal is not to be in business indefinitely.
BACG currently runs 3 interlinked communication platforms: A monthly artist lecture series (crit) now in it's third year, a filmed artist studio interviews series, and social media platforms serving as a hub to broadcast about the art artists and media stories that are germane to Bushwick
Each of these platforms include all genres of art. We use these to document the work and people in our community.
BACG Project Space has a separate mission. Our goal is to facilitate a white box environment to enhance the art dialogue in our neighborhood; albeit by specifically focusing our program on difficult and subversive art. For example, our debut solo will be by artist Phoenix Lindsey-Hall, who makes plaster molds of the weapons used in hate crimes against LGBT individuals. I think that our program's focus makes it clear why this is different and necessary.
AJ: Do you sense a spirit of community here? What is it that you do to support this?
CS: I can safely surmise that 99% of all articles written about Bushwick discuss the gestalt created by of our sense of community, and it is integral to who we are as an art neighborhood. The spirit of Bushwick represents industrious, entrepreneurial art givers, and there is nothing more attractive than people who have something to give.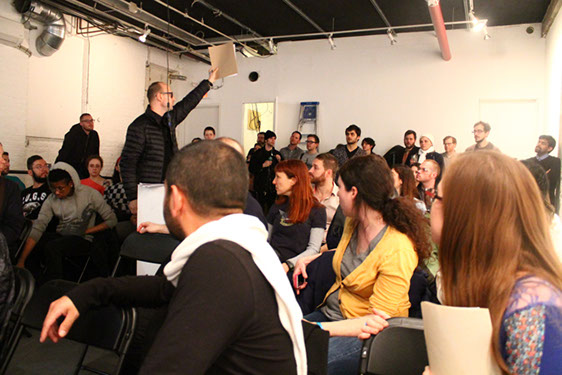 BACG Artist lecture series
photo courtesy of Joseph Pinlac
AJ: And how is this a cycle? I perceive a lot of art production. Do you think the collector base is creating a demand to make more?
CS: I hope if artists are making more art, it's because they are responding more emphatically to the world around them excluding the market. The thought of artists specifically making more work because of a collector base is rather stunning. I'm of the ilk of making the work that is the outcome of cherishing and respecting your artistic process. I mean, even Jeff Koons –with his legions of assistants– is about the hyper obsession of every delicate step. That's the model we should celebrate; the journey, not the outcome.
AJ: What should encourage curators and collectors to come out to Bushwick?
CS: Because Bushwick galleries represent a different preoccupation in art mindset. I believe we could meta the art shown in Chelsea under the moniker of "present perfect," and we could meta the art shown in Bushwick under the moniker of "present/future perfect." Bushwick also has an obsession with origin; meaning Bushwick delights in showing Bushwick artists and work.
AJ: Are these artists wishing to show in Chelsea one day? What is their goal, if not that.
CS: Ahhh… the gallery world in Bushwick and the artist studio world in Bushwick are different animals. I'm pretty certain that a lot of artists (myself included) already do show in Chelsea as well as Bushwick. There's a funny media-led myth that Bushwick artists are an army of mostly emerging artist hipsters. I suppose that's partially true; however, if you segment the artist world in Bushwick, many of our artists are the same people who had studios 10 years ago in Williamsburg, or in the LES or Chelsea or the Village 20 years ago, or even in SoHo 30 years ago. At the risk of sounding macabre, it is feasible that someday Bushwick will change into a different type of neighborhood just like SoHo, the Village, and Williamsburg have, and then the vast majority of the people currently in the arts world will relocate and re-brand into the next art hotspot. That's how it actually works.
AJ: Being yourself an artist, curator, and dealer all at once, one can argue that you have the power to control your own market. How do you avoid any conflict of interests?
CS: I have a personal rule about not showing my own work if the project involves sales. For example, BACG recently did large presentations during Basel week in Miami at Select Fair and during 2015 New York Armory Week at SPRING/BREAK Art Show. It would have been disruptive for me to have included my work in either of these presentations. There are other, equally valid opinions my rule, but this is the one that makes me most comfortable.
AJ: I understand you have a solo show coming up. Can you tell me more about it? What type of work are you showing?
CS: I will be showing a series of work titled, A.O, which consists of white abstract minimal paintings, which are either molded plaster or cement on Belgian linen on panel.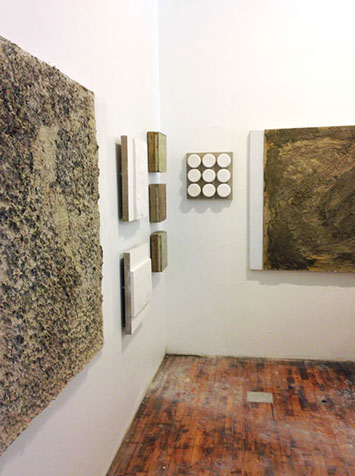 Christopher Stout
A.O. (studio image at Brooklyn Fire Proof), 2015
photo courtesy of artist
AJ: Why should we come out and see it?
CS: I am fanatical about wanting people to come out to the gallery to experience this work. It isn't the kind of work that communicates immediately in pictures.
To me, all of this new work is about a quiet sense of intimacy. I for one am looking forward to sitting quietly in the gallery outside of the hullabaloo of the opening and spending some moments in meditation experiencing the stillness of the work.
For people who are familiar with my work, A.O. represents somewhat of a direction change in that this is a series comprised of many tarnished porcelain circles and I'm known for making work in the shape of squares, but that's not what this is about. This is about wanting you to stand quietly with yourself in the middle of the space, and slowly breathing in and out, knowing the work will silently carry you.
AJ: How has your work evolved in the past few years? How has that helped shape up the body of work that you are about to present? What have been the biggest challenges while making this solo show happen?
CS: This question drives to the heart of this series. About four years ago, I set about to work on a series of paintings that I thought would result in a solo body of work. The results were thoroughly unsatisfying. I don't know how to explain it other than my work germinates with a set of emotions that I feel in the back of my head, and then my process is about figuring out the way to make me feel the exact same emotions when I look at the finished work. I didn't know if these paintings were good paintings or bad paintings, just that they felt unsuccessful in communicating my intent. They felt like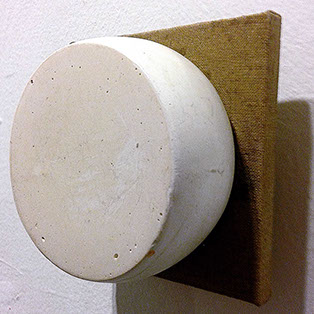 Christopher Stout
A.O. (from Momenta Art Auction)
photo courtesy of artist
emotional misrepresentation.
I couldn't determine how to resolve these pieces, and so I put them into storage and decided to begin a second body of work. Retrospectively, I can say that I learned a lot of information about how to not create the kind of work I was interested in achieving; and at the end of this process, I had inherited not one but two entire series of paintings that felt like corpses. I was rather sick about the whole thing and especially frantic about running an art organization in the Eden of Bushwick while secretly feeling such crisis in my own art. Everyone was talking about their art and I felt like I had nothing of merit to say.
Slowly I came to the realization that I was burnt out, and so I decided to focus my energy on single pieces for group exhibitions while investing my energy into BACG. These experiments led to the series I'll be showing at ArtHelix. Happily the newest work also helped me augment and resolve the original pieces from four years ago.
If I'd answered honestly four years ago about what my work needed to be about, I would have told you that I felt tremendous pressure that it needed to be big or heavy or feel aggressive in order to be New York caliber work. What I've realized than in order for me to make work, it needs to be fragile and emotionally vulnerable and a little odd looking. I can't communicate the relief I have an realizing these things and then giving me the permission to specifically be this kind of artist.
AJ: What can we expect from you in the future? What is your next goal as an artist?
CS: I'm already working on a new series of work that looks similar to A.O., however with all of the pieces being black and "muddy" surfaced rather then ivory and smooth. I'm showing the first triptych of these during Bushwick Open Studios. This is pretty typical with me. I have a cycle of struggling for two to three years and then resolving my art anorexia in a torrent of work.
The gallery I was showing with here closed three years ago, and so I'd also like to find the right thought-partnership with a new space and organization who can help mentor me with respect to my future.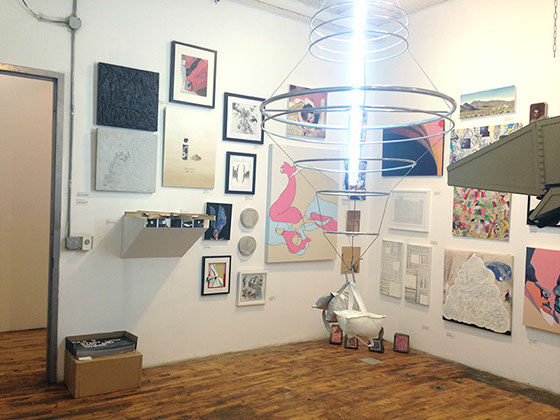 2014 Bushwick Open Studios presentation
photo courtesy of BACG
AJ: What is a good strategy to make museums turn their heads towards emerging artists from Bushwick? Do you believe there has to be a hot market for an artist before they can leave a cultural legacy?
CS: I think the first part of your question is already happening and I suspect the second part of your question is also seemingly true. I remember visiting museums growing up, and the lore of the artist who was never known or appreciated in his own time. Today the opposite preoccupation is true.
I would note that there has been a lot of uproar recently about programming at MoMA, and while I'm not wading into that discussion, I will note the desire of all museums to generate NEW audiences. I'm thinking about opera in New York which is besieged with the need to cultivate new younger subscribers, while dance in New York is flourishing vis-à-vis so many emerging and experimental spaces (Abrons, PS122, The Kitchen). Dance feels in some ways more accessible than ever. I believe a powerful and relevant way for museums to connect with Millennials is to let the dialogue include the work of the newer, younger voices and to specifically note it as such.
AJ: Do you think museums are putting too much emphasis in new artists? Are they jumping on the market wagon as well?
CS: There's certainly room for everybody. This is a little contradictory to my earlier answer, but if we're going to evoke the words "market driven" alongside of museum programming, I wish that museums would go the opposite direction and focus on more risk taking, more nudity, more anarchy, more social issues, and less work that looks like we're visiting a corporate collection. This is a marked oversimplification, but show the work that people want to see, and then fund it with ticket sales, not fucking Bank of America.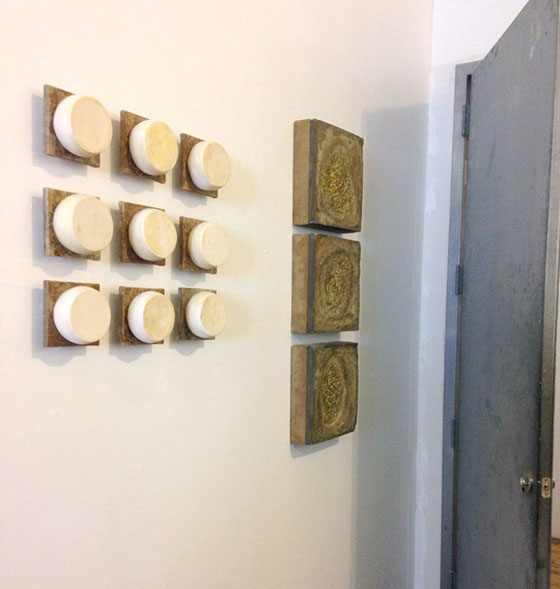 Christopher Stout
A.O. (studio image at Brooklyn Fire Proof)
photo courtesy of artist
AJ: Do you promote your work somehow to create a demand?
CS: Sharing about my art is all about establishing relationships. I do try to research the people who have expressed an interest in the kind of work I do, and I like to send them handwritten cards on my own personal stationery. This might sound initially funny but something that makes me wonderfully happy is that I'm not a corporation, I'm not a product, and I'm not a brand and there is no reason to mold myself into those types of behaviors. Anything that allows me to express my humanity and my artistry for me is probably the right approach.
AJ: Based on your own experience, what five characteristics should every young artist have?
CS: First and foremost, a robust studio practice. Secondly, a mentor who helps them write a 5-year plan and then meets with them cyclically to audit their progress. Three, a clear understanding that failure (commercial, critical, etc.) is an essential part of the journey to success. Four: Professionalism. And lastly, an unrelenting work ethic.
AJ: Art and the art market have a complicated relationship. So hypothetically –speaking of 'the devil'– would go take an offer from a promising figure to make a career for you? For example, to pay for studio and supplies, and place your work in major collections?
CS: Ha ha! I think I have a career and that isn't the devil at all. My answer is yes please, that sounds lovely. David Zwirner, are you listening?
AJ: What if this offer comes from Stefan Simchowitz?
CS: I don't know Stefan yet, but I'd be thrilled to meet him. It is important to note that it is not the collector who validates the artist, but the merit of the artist's work that establishes the collector.
For more information on BACG, please e-mail Christopher Stout, Artist and Founder at bushwickartcritgroup@gmail.com
Alejandro Jassan is a curator and critic from Mexico City. He currently lives and works in New York City.