Eric Sutphin: Your personality as a gallerist comes through more strongly than in a lot of other galleries. I think there's an idea of galleries being these fairly sterile, or neutral spaces but you bring something different to the business.
Brian Morris: I got into the gallery business by way of Glasschord Art and Culture Magazine which I co-founded in 2011 with Noah Post (artist), Gregory MacAvoy (a sculptor who I'll be showing in the fall), Patrick MacAvoy, Vijay Singh, Phil Moffa (Sound Editor). Glasschord came out of us feeling collectively undernourished. The gallery was born out of this dialogue with poets, painters, musicians, sculptors. At first I didn't know what my role would be, but my colleagues told me that I'd figure it out. I started organizing events: poetry readings mostly. Glasschord led us to our first collector. Shortly after that, we opened our first space in the Lower East Side. I walked into the torn-out basement at 163 Chrystie and thought "Okay, let's do this!"
ES: At that time, your programming consisted only of group shows?
BM: This show (C. Michael Norton) is officially our second solo show at the gallery. The first was next door, but even that was technically a two-person show. We showed Kardash Onnig downstairs in the main space and Noah Post in the Project Space. Onnig and Post had had a dialogue going for almost 18 years, so even though that was two separate shows, it was really a dialogue between a young artist and his mentor.
ES: One of my obsessions as a critic is looking for works of art that have a life-force and a vitality inherent in them. I don't care what form it takes or who the artist is, I just want to see the life-force!
BM: Art should be about transcendence. Whether it's painting, sculpture, music, poetry or comedy, there should be some element that connects to to the fact of the here and now. That's one reason I love the show next door, "Cuts Noon Light," with Steel Stillman, Kara Rooney and Andrew Ginzel. You are really in that show—it's about us. The universe has eyes and we are them. It's about awareness and observation versus automation.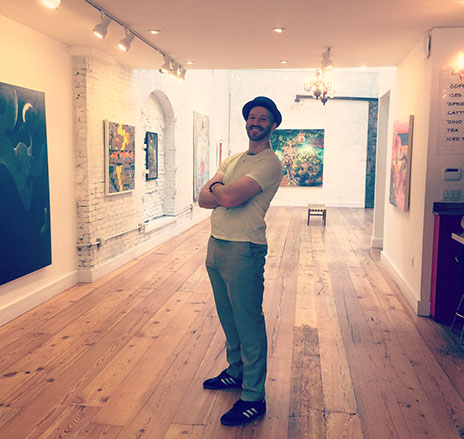 Brian Morris
Photo courtesy of Brian Morris
ES: Each of those artists has an intimate way of looking and interacting with spaces. When we look at their work, it draws our attention not only to the object but it also makes us think about our own reaction to the spaces in which we exist. Along those lines, your program allows for your artists to have a lot of breathing room. You give them room to experiment, you don't limit them.
BM: Part of my role as a gallerist is to encourage artists, not to push them in one singular direction. If an artist brings me something that's totally out there, but I love it –even if it's a complete departure form what they normally do– then I'm open to it. I might ask them why, but ultimately if I'm convinced by the work, I'll say "Let's do it."
ES: That's the exciting part of being an emerging gallery. On the one hand, there are new galleries who are on the fast track to be taken seriously and they do everything right: a roster of eight artists, the pristine space… that's one approach. You seem to be more meandering, not afraid to divert form the standard model, and that seems more exciting.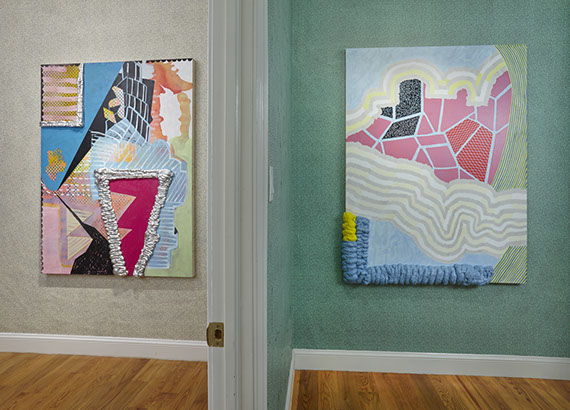 Installation View: A Risky Investment for Boys on the Move: Mark Joshua Epstein in Brian Morris Gallery Project Space 163 Chrystie St, December 2014
Photo by Alan Wiener
BM: I want to write our own script. I'd like to be one gallery with many, not one of many. You know, there are many "ones." I didn't expect this all to happen; it was really a 30-second decision to start the gallery.
ES: How did you come to partner with Buddy Warren and Christopher Joy?
BM: Buddy has been my neighbor here on Chrystie Street for two years. He took over this mess of a garage –that was once a carriage house where horses were boarded– and turned it into this magnificent space where he was building up an interior decorating business. The place was full of furniture, antiques and oddities. We got to know each other, and eventually agreed that this space would be a fantastic gallery. There are plenty of gallerists who would take over this spot in a heartbeat. The location is perfect, the timing is right… so we made a deal to try it for three months and it's going really well. Buddy has many years of business savvy and connections in the city, as well as a great eye and serious panache. I believed he could be a great asset to the gallery's continued growth and spirit.
Christopher Joy started Gorky's Granddaughter with artist Zachary Keeting as a collection of artist interviews –which is now well-known and has a solid reputation. Christopher has a very intimate relationship with so many artists from doing Gorky's for so long. He has an insight into their processes, intentions, and studio practices that is invaluable. A mutual friend suggested that Chris and I talk, so after a few conversations we started to collaborate. Chris has helped me to develop my own sensibility when it comes to art. In the beginning, Noah Post filled that role. But he made it clear then that he wanted to focus on being an artist—he wasn't interested in curating or running a gallery. With Chris, that original list of 120 artists has now become 400.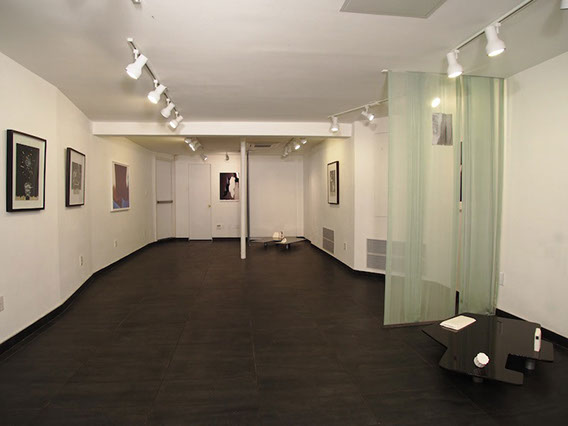 Installation View: Cuts Noon Light : Andrew Ginzel, Kara Rooney, Steel Stillman at Brian Morris Gallery, 163 Chrystie St.
Photo courtesy of Brian Morris
ES: Do you have a roster of artists who you represent?
BM: Not officially. We certainly do have a roster which includes the 120 artists we've shown. So it's really more of a scroll.
laughing
And now this partnership with Christopher Joy has added all of the artists whom he has featured on Gorky's Granddaughter. Since I've partnered with Chris and Buddy (Warren), we are in the process of planning out the next six months of shows. The idea is to put on a solo show in one space, a group show in another, and switch that off every month or six weeks. The first ten solo shows that we put on may become the first group of artists we represent. But the model will be a little different. If I am to continue working in this expansive way, with so many people, I can't give exclusive representation (one solo show every two years) to those artists. That model is changing, which I'm now realizing. More often than not, many artists are involved in several different galleries at the same time. I would guarantee those first ten artists a number of shows and work on promoting their work while still cultivating relationships with new artists and working on developing group shows.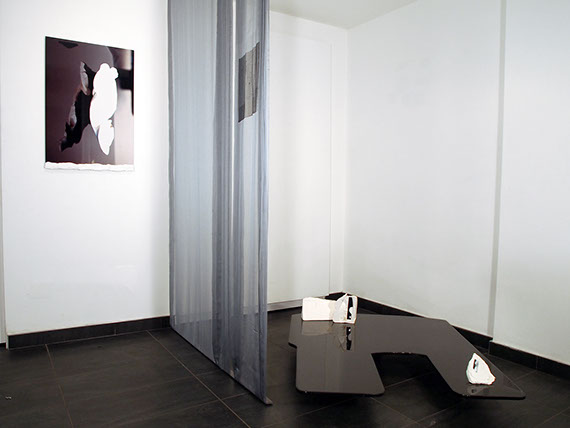 Installation View Kara Rooney: Cuts Noon Light at Brian Morris Gallery, 163 Chrystie St.
Photo courtesy of Brian Morris
ES: So there is Brian Morris Gallery at 163 Chrystie which has a project space above it. Then there is this space, Brian Morris/Buddy Warren Inc at 171 Chrystie. You had a Midtown space. Is that still happening?
BM: Not currently. With the right funding I would love to do it all. I would love to do four exhibitions a year in the Midtown space. With all of these venues it would be like a museum that runs through the city. The artists I've met over the years deserve that.
ES: The gallery has a very open feeling, it's a comfortable space and I'd say more inviting than many so-called white cube galleries. Part of that is a product of its grassroots inception and your emphasis on collaboration. As you get more attention and the artists with whom you work gain bigger profiles, is it difficult to maintain that ethos?
BM: Not so far. The struggle with any venture, as a dealer or as an artist, is sales: you have to keep things moving and growing. People come in to the gallery and feel like it's their home. If I can't maintain that then I'm not going to continue—I can't change, hide or mask that core ethos which the gallery was started on. I'm working with Damien Escobar on launching the "I Am Me" program in public schools. Damien is a Emmy Award winning violinist and he wants to bring arts programming back in to public schools. It empowers kids to express themselves and write their own life script. When you muffle that inner voice and they can't talk about things, thats when the most damage happens, they internalize it. Making art gives people access to themselves and that's why humans have been doing it for so long.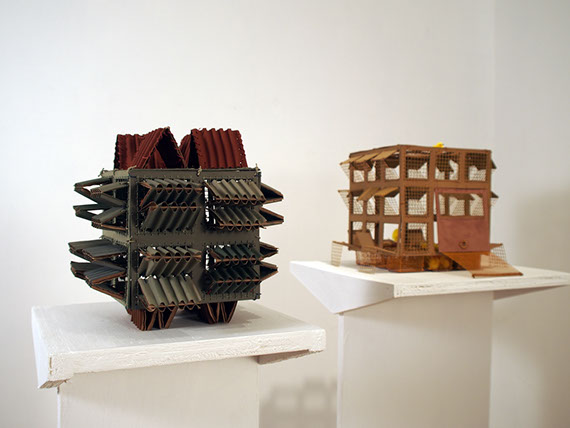 Installation View: Sanctuary of the Square: Laurene Krasny Brown at Brian Morris Gallery Project Space, 163 Chrystie St.
Photo courtesy of Brian Morris
Brain Morris Project Space
163 Chrystie St.
New York, NY 10002
Hrs: Wed-Sun 12-6PM
(347) 261-8228
Current Show: Cuts Noon Light | May 21-July 26, 2015
Brian Morris Gallery and Buddy Warren Inc..
171 Chrystie St.
New York, NY 10002
Hrs: Wed-Sun 12-6PM
(212) 727-8400
Currrent Show: Worlds Without End | June 12 – July 26, 2015

Disclaimer: All views and opinions expressed are those of the authors and do not necessarily reflect the views of the editors, owner, advertisers, other writers or anyone else associated with PAINTING IS DEAD.