Psychology Today, 2006. The Museum of Modern Art, New York, Fund for the Twenty-First Century, 2007.
30 drawings, 2001-03. Brooklyn Museum. Purchase gift of John and Barbara Vogelstein, Norman and Arline Fineberg, and Stephanie and Tim Ingrassia, Phillip and Tracy Riese, 2008.53.2a-dd
P&H, 2007. Milwaukee Art Museum, Purchase, with funds from Contemporary Art Society M2008.77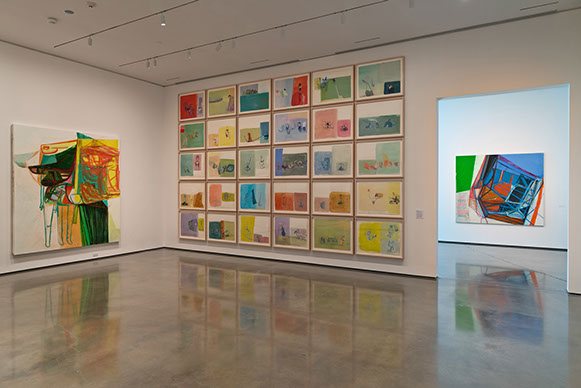 In "On Truth and Lie in an Extra-Moral Sense" Nietzsche writes:
As a rational being, he now places his behavior under the control of abstractions. He will no longer tolerate being carried away by sudden impressions, by intuitions. First, he universalizes all these impressions into less colorful, cooler concepts, so that he can entrust the guidance of his life and conduct to them As. Everything which distinguishes man from the animals depends on this ability to volatize perceptual metaphors in a schema, and thus to dissolve an image into a concept.
I turned to this passage as an introduction to my account of Amy Sillman's current survey one lump or two (on view at the Hessel Museum, Bard College through September 21) because I think it accurately diagnoses the situation in which Sillman's work has found itself in the midst of its current multi-venue affair. Sillman's work is, in the simplest terms, a rereading of post-war American painting. But despite her work's apparent "painterliness," Sillman has folded into her formalism a critical position. On one hand, she has been interested in painting vis à vis linguistic theory coupled with Lacanian psychoanalytic theory. On the other, she investigates oil painting, drawing, and more recently animation, for their expressive and material potential.
Words and Pictures
For this essay, I opted to write about Sillman's career (25 years of which is tidily presented at the Hessel) by looking at a variety of texts that have been written by and about her since 2006 (the point at which Sillman took the stage as a major figure in contemporary abstract painting). I began to cross examine Sillman and her interlocutors by looking at not only what was written about her in the essays in one lump or two (the catalogue which was published in conjunction with the eponymous traveling survey), but also what Sillman herself has said about her practice in addition to what the "general press" (blogs, magazines and other online forums) have been posting in relation to the recent show. Maybe it seems perverse, or at least evasive, to discuss a painter (a title
Sillman has recently begun to challenge) in terms of text and not the artworks themselves. But, as I hope to show, it is perhaps the most productive method for penetrating the thicket of Sillman's output. Sillman is deeply invested in semiotics and linguistics; one of the first images in the catalogue is Shield (1997), which is a geometric abstraction/text painting employing a series of florid words on the face of the oblong shield-like shape that occupies the painting. The words (real or fancied) become larger toward the center of the painting. "Cranic" is spelled out in capital letters at the center. Somewhere between "cranium" and "ascerbic", cranic seems to foreshadow the next fifteen years of Sillman's, approach.
In an October roundtable discussion that took place in 2001, Helen Molesworth, the curator of the Sillman show, espoused her hope that criticism would aspire to be in a dialectic with an artist's practice rather than operating from a one-sided polemical position. Molesworth remarked, "I find that there are artists for whom criticism is still deeply useful, and [which] they are invested in having a dialogue with." It is from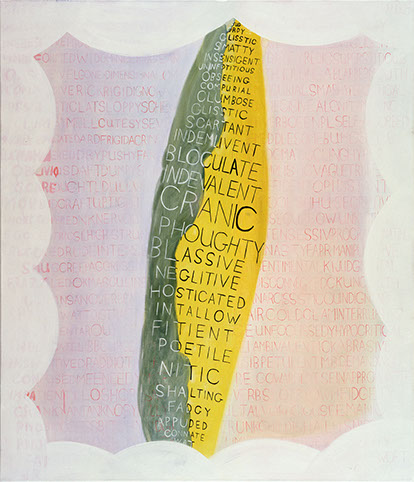 Amy Sillman
Shield, 1997
Oil on canvas
60 x 72 inches, 152.4 x 182.9 cm
© Amy Sillman; courtesy of Sikkema Jenkins & Co., New York
precisely this position that Molesworth approaches Sillman's work as reflected in the attendant introductory text for the catalogue titled "Amy Sillman: Look, Touch, Embrace." Sillman seems an ideal subject for Molesworth, who "is curious about the ambivalences and ambiguities" that can exist within a body of criticism. Sillman is herself invested in the registers of ambivalence and ambiguity. Together, they seem to revel in the pre-fab evasiveness of theoretical language. They seduce their audiences with images and textsthat slyly embrace a modernist set of tendencies (individualism, honesty, expression) while turning their cheek, and in some cases mocking such tendencies.
"I'm not a contrarian, I'm a scrapper."1
By proxy of her bio-political body, Amy Sillman is tasked with building a career as a painter working simultaneously within and against a modernist idiom, vying for exhibition space, critical attention and market success against monolithic figures such as Jeff Koons, Wade Guyton and Christopher Wool. All three of these artists have commanded major New York Museum retrospectives recently. Karen Rosenberg rightly acknowledges that one lump or two "ought to have been picked up by a New York City museum."2 Such a task requires a well-formulated body of criticism that not only augments Sillman's project as a whole, but that ultimately serves to advance her work through the institutional and academic channels necessary for the kind of success seen by her male contemporaries. Sillman's aforementioned correction to Ian Barry's "contrarian" label speaks to her insistence on complication in her work and general reticence about her work being framed in simplistic binaries such as figuration/abstraction or male/female (critics are often inclined to do so). One need only turn to the first page of Anne Ellegood's essay for Sillman's 2008 show "Third Person Singular" at the Tang Museum to get a sense of the type of discourse which has come to dominate Sillman's work. Ellegood begins her essay, "Amy Sillman's invocation of grammatical structure in the title of her exhibition of new paintings and drawings proposes these works may be understood semiotically. The way
Sillman straddles, pokes and prods at the dialectic between abstraction and figuration certainly welcomes an evaluation of the relationship between the signifier and the signified."3 Sillman has painted into the dialectic with increasing acuity and, as a result, has attracted a wider stable of champions for her work.
Ich Auch
Maybe the license to cite references is different across various forums? Within the walls of the museum, where works are brought closer into the realm of the historical, a painter like Richard Diebenkorn can be acknowledged in terms of the canon, whereas in a public forum like a talk or panel, the invocation of such a reference makes one feel uneasy—as if by verbally validating one's allusions, one is being too pedestrian. Diebenkorn is just another elephant in the room. Along with Diebenkorn, Philip Guston emerges as the most obvious progenitor of Sillman's work On December 4, 2014, I attended a talk at the New York Public Library where Sillman and Molesworth discussed the catalogue for one lump or two. During that talk, (which was repeatedly derailed by oddball audience remarks and off-topic digressions) one audience member addressed the allusions to Diebenkorn in some of the work in the show. Sillman shrugged and commented "I guess, but he's (Diebenkorn) is not really even someone I care about one way or the other." Molesworth mentions Diebenkorn's Ocean Park series in several of the walltexts which accompany the paintings (ironically, Diebenkorn is conjured in the explanatory text for The Elephant in the Room (2006)).
Richard Diebenkorn
Woman by a Large Window, 1957
Oil on canvas
70 7/8 x 64 7/8 in. (180 x 164.8 cm)
Allen Memorial Art Museum, Oberlin, Ohio, R. T. Miller Jr. Fund. © Richard Diebenkorn Foundation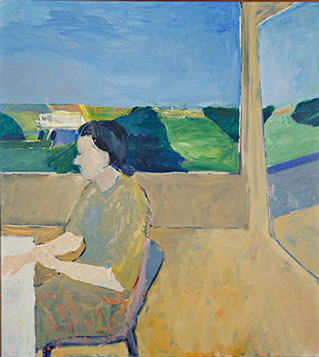 Sillman has adopted the notion of queerness as a theoretical scaffold through which she can play out her heterogenous and at times, contradictory, personae. As Thomas Eggerer posits in his essay "Meditations on the Split-Self" in the catalogue, "Sillman's work can be understood as a feminist or queer response to the heterosexual construction of the genius master painter."4 To me, Diebenkorn is as queer a painter as they come; outside of his seemingly benign, breezy abstractions, there exists a body of work that, like Sillman's, mines the isolation of the body within the extra-human abstract field (Sillman, Ich Auch, 2009 and Diebenkorn, Woman in a Window, 1957). The chief problematic with Diebenkorn is not so much his universal likeability, but rather, the Bay Area figurative artist's work has not been sufficiently augmented by theoretical argument–thus his version of beauty has not been "justified". But Sillman is not simply averse to that which is likable. She freely discusses the influence of cartoons (most notably Nancy and Rocky and Bullwinkle), but these characters, unlike Diebenkorn's subjects, have the advantage of mass-cultural approbation and carry with them a kind of weight which can be converted into affective currency. Further, as we can read in art historian and Harvard professor Ewa
Amy Sillman
Ich Auch, 2009
Oil on canvas
90.55 x 84.65 inches, 230 x 215 cm
© Amy Sillman; courtesy of Sikkema Jenkins & Co., New York
Lajer-Burcharth's essay "The Inner Life of Painting," Nancy can be read as a feminist figure/stand-in for Sillman herself. In Nancy 2 (thank you to Bushmiller and Brainard) (2011), the title character peeks through a hole in a wall and observes an older male painter at work. Taken so with his achievement, the girl sticks her striped "candy stick" through the hole and offers it to the painter as a both a token of appreciation and elective self-castration. As Sillman noted during the NYPL discussion, "even if you make a silly painting a museum will make it serious." Sillman's remark brings up the question of what happens to works of art once they enter the traveling survey circuit. The question was probed in 1993 by Dave Hickey in his essay "After the Great Tsunami" where I think he gets it right when he says:
Our relationship to images authorized by beauty is now distinct from our relationship to images authorized by the therapeutic institution, and radically so. And this is no less the case when a single image undergoes a shift of authorization, as anyone who has loaned work to a museum exhibition can tell you
And here is where Hickey really drives it home:
Visiting that work can be like visiting an old friend in prison. It is a distinctly different image, hanging among a population of kindred offenders, bereft of its eccentricity and public franchise, yet somehow, on account of that loss, newly invested with a faintly ominous kind of parochial power (emphasis mine).
When I saw Sillman's Psychology Today (2006), it was just like seeing an old friend. I first saw the painting at Sikkema Jenkins in 2006 and have tried to follow it around. In 2008 it was acquired by the Museum of Modern art for its permanent collection, though it has not been on view (at MoMA) since it was acquired. In my notes from my February 2014 visit to the ICA: Boston iteration of one lump or two, I wrote:
My darling, Psychology Today. Seeing this painting is like visiting an old friend. When I first saw it, it hit me in the gut. I couldn't escape its impact. Is it a sexed painting? It's not male or female. The figures in it are cut off at the torso by a hulking abstract conglomerate of form. It mocks gesture and action painting. The curlicue salmon tantrum in it is like a sign-off, not a signature but more like a slap or a tickle. Lacan meets Matisse, Miro and Guston. Revisiting the painting today, she's a she. I see the arm that Molesworth alludes to in her wall text, but it's a club-arm, a fingerless yellow mitt with an orange outline. The pivot-point of the painting is just off center; like a naval, a three-lobed center (She) circles it with a blue-grey line (decisive) here!
Amy Sillman
Psychology Today, 2006
Oil on canvas
84 x 72 inches, 213.4 x 182.9 cm
© Amy Sillman; courtesy of Sikkema Jenkins & Co., New York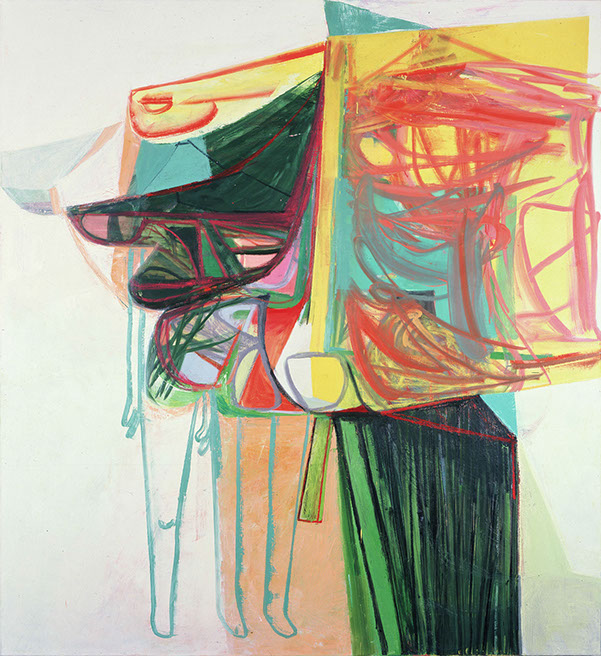 Babble
The climax of Sillman's play with the mythic opposition of Abstraction and Figuration happens in her "Couples" series (this comprised Third Person Singular–some of these are presented at Bard). For that series, Sillman situated herself in a doubled position, once removed, in a triangulated network of looking, being looked at and "diagramming" this exchange in her drawings. Sillman extended the project by reproducing the initial observational drawings multiple times from memory and ultimately produced a series of abstract paintings based on the forms that emerged from these investigations. Molesworth remarks of these works that "the act of looking and transcribing is both the method and the subject of the work….Ultimately these 'memory drawings' and their offspring were transformed into 'templates' for abstract paintings".5 Thus, in this essay, Molesworth advances the notion that Sillman's work is "beside itself", as she goes on to note:
For if, as (David) Joselit suggests, the diagram does not offer a coherence, but rather a multiplicity, then in a painting like P&H (2007), we can see a massive central six-sided shape as a crystalline form, fracturing and splitting inside itself...it likely refuses to form into an explicable sign and in its unknowability it must appear to be and feel as if it were an abstraction of the highest order.6
This passage complies with Ellegood's call for a semiotic approach to viewing and understanding Sillman's work but uncomfortably rubs against some remarks Sillman made in a dialogue with Gregg Bordowitz that was published in 2007 as part of the Between Artists series. Below is an excerpt from that conversation in which Sillman seems to eschew the theoretical postulating that is played out in the Molesworth essay.
Bordowitz: Does a model of conceptual painting dominate now?
Sillman: I don't even think conceptual painting exists...It's a ridiculous non-category. All painting is conceptual and is also partly driven by desire.
Bordowitz: In order for painting to be appreciated, it has to have a conceptual apparatus…
Sillman: It has to have an excuse. A kind of validating intellectual structure to allow for something.
Bordowitz: What's the alternative, what would you like?
Sillman: I'd like to really, really talk about painting's or art objects', qualities. This is an underdeveloped muscle in the critical apparatus. I think we should be looking at objects formally while understanding that, of course, content is part of form and form is part of content, and see how objects are working with content and abstraction now and what they are really doing. I wish there was less
embarrassment, less tension about a kind of formal and poetic response, where you could describe something in terms of feeling or association, or you could look at how something plays, rather than just how it signifies, or how it deals with the literary, marketplace or distribution systems that lie around it. Some critical language around art may fall short, and need to be refreshed, or be dropped.7
Two years after this published conversation, Sillman would emerge as a totem figure in David Joselit's treatise on what he has dubbed "transitive painting". In his 2009 essay "Painting Beside Itself", published in October, Joselit writes, "Painting since the 1990s has folded into itself so-called 'institutional critique' without falling into the modernist trap of negation where works on canvas are repeatedly reduced to degree zero while remaining unique objects of contemplation and market speculation".8 Joselit uses both Sillman and R.H Quatman's inclusions in From O to the Other (2008) to advance his hypothesis of transitivity. Joselit claims that this collaborative endeavor (Sillman's contribution was a series of unframed portraits of the Orchard community which were exhibited on a table and meant to be handled) "served to suture spectators to extra-perceptual social networks rather than merely situating them in a phenomenological relationship of individual perception, as orthodox modernist criticism would have it.9
This brings into play the question of suppression: how and when do an artist's particular achievements and failures enter the public domain? With Sillman now at "mid-career," we have a moderate amount of textual analyses from which to study her work and career at large. Until her survey, the Orchard project did not even register as a blip on critics' radars (beside Joselt's). Since Joselt's 2009 essay, a theoretical turn has occurred in the reception of Sillman's work and some writers have begun to privilege the social and collaborative elements in Sillman's practice over the traditionally formal aspects. Has Sillman foreclosed this desire for a criticism "where you could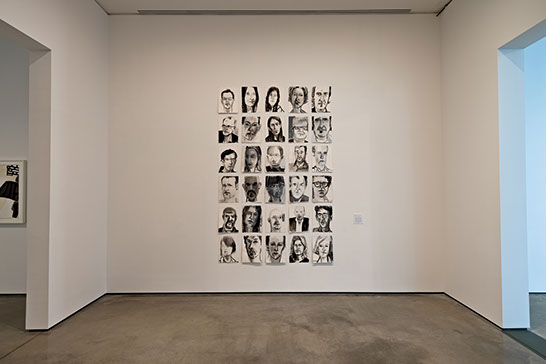 Portraits from Orchard (an Ongoing Project), 2008. Courtesy of the artist and Sikkema Jenkins & Co.
describe something in terms of feeling or association, or you could look at how something plays, rather than just how it signifies, or how it deals with the literary, marketplace or distribution systems that lie around it" been in favor of a more formidable stable of champions? It would seem so. Within this context one wonders if the affective economy inherent to Sillman's project must necessarily be sublimated in favor of language that is invested with a different sort of power. We might say that Sillman has been in a state of disassociation since Joselit's essay was published. Within this framework, we can look at Sillman's work as a visual representation of this series of personal/professional splittings. Her paintings themselves are emphatically physical but the critical apparatus that wraps and preserves it (like a Modernist mummy) simultaneously attempts to undo it from within.
Ewa Lajer-Burcharth takes up a corrective position on Joselit's reading that Sillman's work exists "outside of itself" when she notes that:
In Silman's case, Joselit has identified the gestural marks as framing some of the artist's figural motifs as symptoms of transitivity; signs of her painting's "life" within the network. While Joselit's analysis has brilliantly diagnosed an important turn in contemporary pictorial practice, pointing to novel approaches to the question of medium, it leaves Sillman's deep investment in interiority-her practice of painting inside itself-unaccounted for.10
Heh-Heh (ha-ha)
We encounter a deceptively anti-academic thread in a conversation between R.H Quaytman and Sillman in Bomb where Sillman notes, "I didn't exactly take the royal road to critique. I didn't study academically, and I only started reading theory when I was older. But I did have the same attitude all those critical thinkers had, which was basically: fuck you. Only my fuck-you attitude was more whimsical-more of a heh-heh than a critique kind of thing".11 In one fell swoop, Sillman seems to negate readings such as Joselit's and legitimizations like Lajer-Burcharth's. But Quaytman says of her relationship with Sillman, "we seem to need each other's thinking, or at least I need hers...between our heads and our work we make a figure eight".12
As we have already seen, a palpable friction exists between exegetical readings, theoretical positions, and modes of interpretation within and around Sillman's work. W.J.T Mitchell in "Ekphrasis and the Other" (1994) discusses this complicated, often strained, relationship between images and their attendant textual encounters. Mitchell's diagnosis of ekphrasis proves particularly useful in thinking about the visuality of Sillman's paintings in relation to language: "The ear and the eye lie down in the same bed, lulled by undying accents. The estrangement of the image/text division is overcome, and a sutured, synthetic form, a verbal icon or imagetext, arises in its place."13 The hybridized image-text in Mitchell seems to be analogous to Joselit's notion of transitive painting. Joselt posits in relation to Sillman's oeuvre that "it is painting of duration," adding, "It's almost a new medium. There's a perpetual revision going on, and the work continues to morph".14
Sillman's collaboration with poets has been the most effective form through which the image-text problem is addressed. In "Draft of a Voice-Over For Split-Screen Video Loop",15 Sillman created an animation that accompanies a poem of the same title by Lisa Robertson. Robertson's evocations of femininity, politics and aesthetics are married to Sillman's clunky images. These images (drawn on an iPhone) quiver as they shift and tumble in and out of legibility. But Robertson's words, read by Sillman, sound sure of themselves, even when the verbiage itself threatens to collapse. When we hear a line like "So what if she is thick and stupid behind her life. It is not private," a simultaneous cringe and swelling occurs, as Robertson (Sillman) asserts their/her dominance as a "thinking-seeing-talking" subject. The "so what" of the sentence coheres with Sillman's own off-hand, casually drawn forms. But with "it is not private," the stanza ends on a political register that unites the subject and the object (the artist/poet/viewer/listener) and drives home the very collapse of the boundaries and distinctions that critics and "the public" seem to insist upon.
Collecting Evidence
Artists are "made public" via the medium of text in the form of reviews, essays and sound bites that emerge from and revolve around their respective shows. Sillman and Molesworth combine their energies to advance Sillman's project "beyond the pleasure principle" and into the field of major players. In order to do so it seems that great care has been taken in deciding which types of discourse are let into the discussion around the (ICA and Bard) show(s) and which voices are suppressed. The Barry and Bordowitz conversations are footnoted in the exhibition catalogue, while three of the four catalogue essays repeatedly mention Joselit in the body of the texts.
In an about face to Joselit's theory-driven exegesis of Sillman's work is Ted Loos' profile of Sillman and her ICA show titled "Blobs and Slashes, Interrupted by Forms". At the outset of his article, Loos qualifies Sillman as a painter who is not concerned with beauty. He quotes Sillman as saying; "I don't care about beauty at all". Blobs and slashes, one lump or two these titles in themselves offer up the linguistic affronts to "beauty" that Sillman advances for how her work is perceived. But the language of Abstract
Expressionism still pervades the ways in which her work is discussed in the mainstream press. Thomas Eggerer attempts to reconcile this seemingly compulsive conflation in his essay. He states, "Speaking about the transgressive potential for Abstract Expressionism's 'vulgarity', the artist writes that 'its embrace of awkwardness, struggle, nonsense, contingency' has permeated the reclamation of its methodologies by queer/feminist artists".16 Having spent many hours looking at Sillman's work, I agree with Eggerer's claimthat Sillman's paintings are "slow; their intricate atmosphere is not muscular but artificial, eccentric, and mysterious, saturated with the infinite repercussions of the battle between impulse and rumination."17 Although Eggerer falls back on the heroic, masculinist language of action painting in his portrayal of "battling" between opposing methodologies, he is right in positing Sillman's approach between the types of activity governed by, on the one hand id-driven impulsivity and on the other, the ego-driven rumination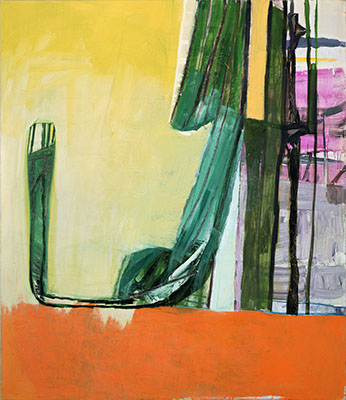 Amy Sillman
The Elephant in the Room, 2006
Oil on canvas
80 x 69 inches, 203.2 x 175.3 cm
© Amy Sillman; courtesy of Sikkema Jenkins & Co., New York
of the painter's second guesses and neurotic self editing. Loos tiptoes into territory that seems to insinuate a certain skepticism that haunts Sillman's work. He writes "Ms. Sillman chooses her own job description carefully" as he goes on to quote Sillman saying: "I think the core of my practice is completely drawing — I don't even think I am a painter," she said. "I'm just pulling one over on everyone, because they're big and they have color." She conceded, "They have one thing that's like true painting, which is that they're made in a lot of layers, an extremely slow way of constructing, deconstructing and reconstructing a space."18
Taking on the task of accounting for Sillman's work via the texts written about it has been like stumbling upon a crime scene. At first encounter are the viscera of her paintings: tangled, chromatic displays of body parts and fractured planes of chroma. Then there are the remarks made by the perpetrator, Sillman, who moves between candor and contrarianism. And still there are her co-conspirators like Helen Molesworth and R.H Quaytman, among others, who seem to give Sillman an alibi, and in so doing justify their own involvement with painting. Figures such as David Joselit and Ewa Lajer-Burcharth are a bit like the forensic investigators who desublimate conceptual and theoretical causality in the work. Other figures in this network such as Ted Loos of the New York Times, Sebastian Smee of The Boston Globe and Tyler Green of Modern Art Notes (the latter two whose contributions to the discourse seemed, frankly, to be of little import) are like rubberneckers, gazing upon the scene and offering sound bites to the "general audience".
Again, Mitchell offers vivid and prescient insight into the situation:
The 'otherness' of visual representation from the standpoint of textuality may be anything from a professional competition (the paragon of poet and painter) to a relation of political, disciplinary or cultural domination in which the "self" is understood to be an active, speaking seeing subject, while the "other" is projected as a passive, seen and (usually) silent object.19
Mitchell wrote these lines nearly twenty years ago and they seem to speak summarily to Sillman's project. In fact, coming through to the other side of these writings on Sillman's work, with its basis in language, I wonder if it would not be too contrarian a statement to name what Sillman is doing "ekphrastic painting". Sillman's work has proven perfectly malleable for critics' responses. She has been cooled and conceptualized, and the libidinous energies of her color and mark have been repeatedly, to use Nietzsche's phrase, schematized. Conversely though, it is Sillman's versatility as a thinker as well as a painter that has opened her practice to the myriad textual responses and projections to which it is subject. It seems that each successive body of work is an invitation, or provocation, to writers to reach out and smear their own psychic/sexual/intellectual residue onto the work in a painterly game of fort-da.
13 Possible Futures for a Painting, 2013-14. Courtesy the artist (Amy Sillman)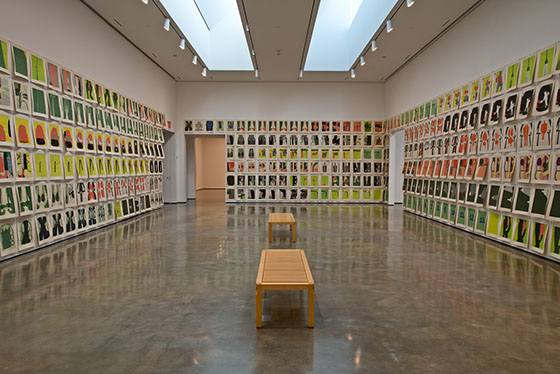 1. Amy Sillman: Third Person Singular, "Ugly Feelings: A Dialogue Between Amy Sillman and Ian Barry," 2008, 13.
2. Karen Rosenberg, "Shifting Contexts, Psychodrama and Meta-Works," The New York Times, July 13, 2014.
3. Anne Ellegood,"Third Person Singular" in Amy Sillman: Third Person Singular, 2008, 55.
4. Thomas Eggerer, "Meditations of the Split Self" in Amy Sillman: one lump or two, 2013, 152.
5. Helen Molesworth, "Amy Sillman: Look, Touch, Embrace" in Amy Sillman: one lump or two, 2013, 51.
6. ibid.
7. Amy Sillman and Gregg Bordowitz, Between Artists, 2007, 15-16.
8. David Joselit, "Painting Beside Itself", October, vol 130, 2009, 125-134.
9. ibid, 132.
10. Ewa Lajer-burcharth, "The Inner Life of Painting" in Amy Sillman: one lump or two, 2013, 84.
11. "Amy Sillman by R.H Quaytman" in Bomb Magazine, November
12. ibid.
13. W.J.T Mitchell, "Ekphrasis and the Other", in Picture Theory, 1994, 5.
14. David Joselit, "Painting Beside Itself", October, vol 130, 2009
15. Sillman created an animation to accompany Lisa Robertson's poem "Draft of a Voice-Over for Split-Screen Video Loop (2012). Daniel Marcus describes the work as "a psychodrama of sorts, geared to the rhetoric of feminist theory. The narrator describes a woman, known only by the pronoun "she", in short, clinical declaratives: "she thinks she undoes her femininity to give herself pleasure...What the political is to her cannot yet be quantified...."
16. Thomas Eggerer, "Meditations of the Split Self" in Amy Sillman: one lump or two, 2013, 152
17. ibid.
18. Ted Loos, "Blobs and Slashes, Interrupted by Forms", The New York Times, September 26, 2013
19. W.J.T Mitchell, "Ekphrasis and the Other", in Picture Theory, 1994
Bard College
Annandale-on-Hudson NY
12504 -5000
From the CCS Bard webstie:
Amy Sillman is an artist whose paintings, drawings, and animations actively negotiate interactions between abstraction and figure, language and image, feeling and form. Her work has been shown regularly at museums and galleries for the past two decades, including The 2014 Whitney Biennial, and in December 2014 she will participate in a group show about painting at MoMA in NYC. Sillman has been the recipient of numerous awards and fellowships, including a Guggenheim Fellowship, a Louis Comfort Tiffany Award, and the Pollock-Krasner Grant. For many years a resident of Brooklyn, NY, Sillman will spend much of the next year travelling. In the fall of 2014 she will be a Resident at the American Academy in Rome, and in April 2015, she will begin a stint as Professor at the Staedelschule in Frankfurt.
Organized by Helen Molesworth, Barbara Lee Chief Curator at the Institute of Contemporary Art/Boston (ICA), the exhibition was on view at the ICA/Boston from Oct. 3, 2013 to Jan. 5, 2014, and the Aspen Art Museum from Feb. 13 to May 11, 2014.
The CCS Bard Galleries and Hessel Museum of Art at Bard College are open Thursday through Monday from 11:00a.m. to 6:00 p.m. All CCS Bard exhibitions and public programs are free and open to the public. Pubic tours are every Sunday at noon. Limited free seating is available on a chartered bus from New York City for the June 28 opening. Reservations are required; call +1 845-758-7598 or email ccs@bard.edu