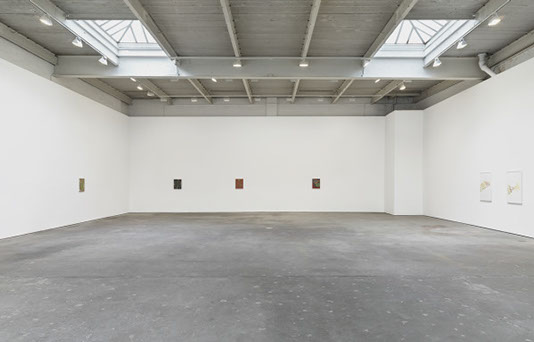 Installation view from from the 2014 solo show Tomma Abts at David Zwirner, NY
Courtesy David Zwirner, New York/London
Tomma Abts @ David Zwirner
I watch as spectators patiently observe bisecting planes, textures, gradients, and false shadows. They are willing to spend time with each piece in Tomma Abts at David Zwirner—and in a society where the average viewing time per work is down to seconds 1, this rules against the norm. Tomma Abts takes her time to find that moment when "everything is in place" 2, working intuitively through geometric abstraction on small portrait sized canvases. From an interview after receiving the Turner Prize in 2006, she alludes to the cadence of her work: "They're such slow paintings to make that I think they might also be slow to look at ... that people might not really notice what's going on." 3 They are indeed slow, and the more one spends time with these paintings, the more they open up as subtleties continue to reveal themselves.
Tomma Abts' small paintings in such an expansive space provides ample breathing room between paintings, allowing the viewers to clear their eyes before entering each discrete realm of color, shape and shadow. Distractions are minimized; each painting is given the space for the quiet, still contemplation. Fortunately, Abts' work thrives under—and requires—such focus from the viewer.
Abts' paintings need to be viewed intimately in order to grasp the variations of texture and paint application. Her surfaces are pristine—barely a trace of the brush. She actually holds her work while she paints. The closeness she has with her work is palpable. Abts is known to take as long as one year on her paintings, yet they never look over-worked. Visible textures from painted-over work look like they were always meant
to interact with the final, decisive layer. Feke–an almost monochrome yellow painting–has a particularly important band of texture across the top one-sixth of the canvas. This over-painted remnant of previous work causes a slight textural shift and fills the empty space in the upper portion of the canvas enough to balance the weight of the bottom plane.
The forms she employs are familiar, evoking an idiosyncratic blend of Fra-Angelico with graphic or interior design from a 1980's shopping mall. In Voke, the forms are almost perfectly symmetrical flipped mirror images. The center is stabilized with an elegant curved column. Triangles and straight bands of color occupy the foreground from all directions, framing an intersection of curves in the center. Prominent parallel diagonal bands of buff white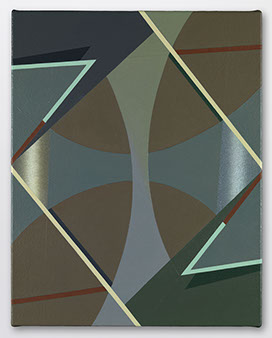 Voke, 2013
Acrylic and oil on canvas
18 7/8 x 15 inches (48 x 38 cm)
Courtesy David Zwirner, New York/London
bisect the four sides of the canvas. Voke is dynamic. Every shape has a hard edge; even the dropped "shadows" are cutting.
Her colors are natural and muted, rarely synthetic and caustic. In these paintings–as in most of her oeuvre–we are presented with earth tones of goldenrod, terracotta, turquoise, and mauve, among others. Value ranges are narrow. In Dele, a warm light grey-green envelopes the canvas. Bands of red and green paired with gradating bands of blue, green and brown form triangles. Adjacent gradients of light to dark grey-green suggest shadows, giving lift to the forms; implying a three dimensional quality.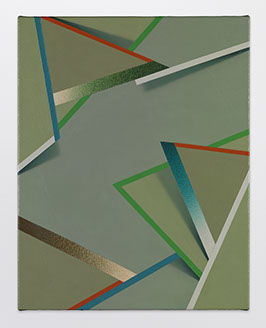 Dele, 2014
Acrylic and oil on canvas
18 7/8 x 15 inches (48 x 38 cm)
Courtesy David Zwirner, New York/London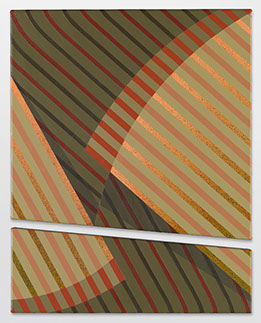 Wybe, 2014
Acrylic and oil on canvas 2 part work
Overall: 18 7/8 x 15 inches (48 x 38 cm)
Courtesy David Zwirner, New York/London
Wybe displays two of Abts' ubiquitous devices: diagonals and gradients. A machine-like flicker of paint, reminiscent of a child's toothbrush speckle painting (or maybe it is just me who used to do this as a kid), vibrates behind strong diagonals of taupe and mauve. The gradient of speckles gives luminosity to the two most prominent peach-colored forms. A diagonal splits across the width of the canvas and interrupts strong vertical diagonals, cutting the two peach forms into four and overlaying multiple orders of shape.
As in her paintings, Abts' drawings are dictated by the diagonal. In colored pencil and graphite, diagonal bands are drawn within diagonal bands. For me, the drawings in this show don't hold the same power. Lacking the complexity and depth of the paintings, they function much differently and appeal to a more stringent sensibility. They are comparatively cold and decisive rather than nuanced and meditative. The drawings are also much larger than the paintings. The excessive white space above and below the forms does little to activate the page. The paintings have imperfect, inconsistent edges on the sides of the canvas, which leave evidence of time and perhaps struggle. By contrast, the drawings are one repeated thought; evidence of process is absent. They do however pique my interest in her drawing practice.
A collection of Tomma Abts' paintings rarely surfaces. This is her first show in New York City since 2008. Make the time to experience the subtleties of her paintings in person: they are worth the wait.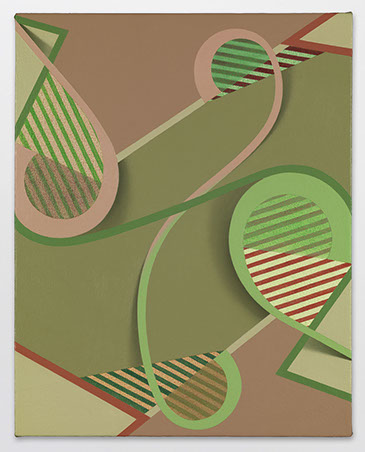 Oke, 2013
Acrylic and oil on canvas
18 7/8 x 15 inches (48 x 38 cm)
Courtesy David Zwirner, New York/London
Tomma Abts
September 10 - October 25, 2014
David Zwirner
519 West 19th Street
New York, NY
From the Website:
David Zwirner is pleased to present an exhibition of new works by Tomma Abts, the gallery's first show with the artist since 2008. On view at 519 West 19th Street in New York, it will coincide with Tomma Abts: Mainly Drawings, the inaugural exhibition at the new Aspen Art Museum in Colorado, designed by architect Shigeru Ban (through October 26).